Proof is powered by Vocal creators. You support
Jennifer Violet
by reading, sharing and tipping stories...
more
Proof is powered by Vocal.
Vocal is a platform that provides storytelling tools and engaged communities for writers, musicians, filmmakers, podcasters, and other creators to get discovered and fund their creativity.
How does Vocal work?
Creators share their stories on Vocal's communities. In return, creators earn money when they are tipped and when their stories are read.
How do I join Vocal?
Vocal welcomes creators of all shapes and sizes. Join for free and start creating.
To learn more about Vocal, visit our resources.
Show less
28 Gorgeous Bar Carts Under $250
Want a luxurious bar cart but not willing to spend so much on one? Consider buying any of these stunning bar carts under $250 that will be the perfect addition to your home.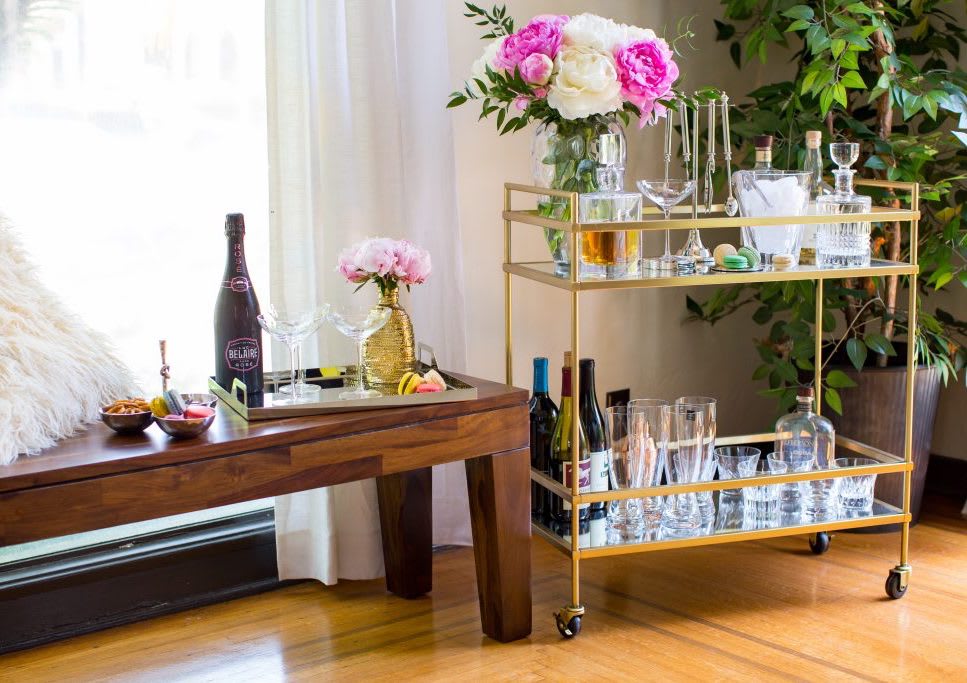 My husband and I host a lot of dinner parties because we love spending time with our closest friends and I'm a sucker for creating big feasts. Even though we don't own a home bar (we're currently in the process), my husband would set out all of the liquors and wine on the kitchen island. Most of the time, I hated it because I needed the space for setting up the food. I remember complaining about it to one of my friends and she suggested buying a bar cart.
I knew what bar carts were but buying one never crossed my mind. My husband would be able to lay out all of the drinks on it and it wouldn't be in the way of my food! After looking up different bar carts, I realized how expensive they were and didn't want to spend so much. Then I researched a bit more and stumbled upon a large variety of luxurious bar carts under $250! Not only are these prices for these bar carts a steal, but they're in top condition and can be the perfect piece for your dinner parties.
Whateley Bar Cart by Birch Lane
Nothing beats the beauty of a piece of furniture that's completely coated in gold finishing. In this case, the Whateley Bar Cart is everything high-end and can swiftly carry your best liquor.
This bar cart is constructed from metal with a stunning gold finish. It's a two-tier cart so you can place the bottles on the bottom shelf and place glasses on the top. It also has a smooth glide when pushing the cart around.

Maxton Bar Cart by Southern Enterprises
When we have guests over, we need to display the cocktails and martinis somewhere. Instead of leaving them out on the table, let there be a place for just alcoholic beverages.
This Maxton Bar Cart by Southern Enterprises is among the gorgeous bar carts under $250 because it has a metallic gold finish with mirror glass table tops for a high-end look. The X-frame sides offer a lavishing lifestyle of the 20s with spacious shelves to provide space for all of your beverages.
Deschenes Bar Cart by Mercury Row
Want a cart with an all-around gate for more protection? None of us want our bottles rolling off of the cart and the Deschenes Bar Cart is the ideal choice to provide you with constant protection from your beverages shattering on the floor.
One of the best bar carts under $250 is durable and luxurious with a metal frame finish in champagne and has mirrored shelves for a more glamorous appeal. This cart features soft, rubber wheels for a smooth glide and the cart doesn't sound loud on the floor.
Kahnah Bar Cart by Trent Austin Design
I'm sure many of us wine lovers are looking for a bar cart that's specifically designed to be a wine cart. We need a cart that features hooks for hanging our wine glasses and slots to securely carry our favorite wine bottles.
The Kahnah Bar Cart by Trent Austin Design is easily one of the most convenient bar carts under $250 because it offers everything it needs to be a wine cart. This bar cart is constructed from the finest fir wood and iron to make it a sturdy cart. Since it's so strong, it can hold up to 10 bottles of wine and has a removable tray to bring the drinks right up to your guests.
Metal, Wood, and Leather Bar Cart by Threshold
Many people fear scratching mirrored or glass surfaces on their bar carts. That's why those people should get their hands on wooden shelves so the scratches aren't as obvious!
Threshold's bar cart is made from metal framing, wood tabletops, and leather wheels for a smooth push. Scratches on wood aren't as noticeable which makes this bar cart the perfect addition to your kitchen!

Venice Bar Cart by Wildon Home
I know I'm always looking for uniquely-designed pieces for my home and this bar cart is one of the coolest bar carts under $250 because of its stunning "Z" shape. It a has a copper/rose gold finish and can make all of your liquor bottles look great when they are displayed on this cart.
Its slim, seamless handle offers effortless push and pull while the Z-frame gives more open room for the shelves; plus it's the ideal height for serving. This cart has plenty of room to store away creative cocktails, stemware, and other supplies. 
Yves Serving Cart by Joss and Main
My friend absolutely loves antique-looking furniture and accessories, which is why she got herself the Yves Serving Cart by Joss and Main. It's both old-fashioned and stunning at the same time. 
This two-tier cart features antique accents around the frames with a rich gold finish and glass surfaces. It's the perfect type of bar cart to display in the corner of the room while it's carrying your favorite bottles of wine and spirits.

Kaczmarek Bar Cart by Joss and Main
Are you looking for an abstract bar cart that looks rich and creative? The Kaczmarek Bar Cart is among the most artistic bar carts under $250 because of its unique design. 
This cart is constructed from metal and glass to offer you a taste of luxury when serving alcohol to guests. It's a two safety-tempered glass shelves that have a silk-screened geometric pattern. While you're at it, make sure you know the easy wine hacks every party planner should know so you can impress your guests even more.

Zephs Bar Cart by Holly and Martin
Instead of the shiny, gold finishes, do you find the darker bar carts to fit your house's interior colors and themes? I'm also a fan of the black pieces of furniture and I find the Zephs Bar Cart to be a gorgeous piece.
This fashionable and functional bar cart is a statement piece and a reliable cart that can bring glasses of wine and cocktails to your guests. You can also lock the wheels and display the cart anywhere in your house for easy access and the perfect spot to leave snacks, too! It has a gunmetal gray finish with black glass for an elegant appearance.

Three-Tier Metal Serving Cart by Pemberly Row
If you're a host who invites so many friends over for dinner parties or simple gatherings, then you're going to need a bar cart that provides you with a lot of room for alcohol. The three-tier bar cart from Pemberly Row is among the best bar carts under $250 that offers you so much room to fill with bottles, stemware, utensils, snacks, and others.
The wheels have easy mobility and the cart is designed in a floral style that adds charm and character to the metal frame. It's finished in distressed glossy black and the three shelves give you great amounts of storage when you need it.

City Life Metal Bar Cart by South Shore
There are people who don't want any fancy-looking bar carts, but something modern, simple, and sturdy to carry bottles of spirits. The City Life Metal Bar Cart by South Shore is the best form of bar cart that's simple and can easily transfer drinks from one area to another in a room.
The cart features two black tempered glass shelves on the top and base. The four-caster wheels make easy mobility and the framed bottom shelf is designed to store wine bottles and other alcohol bottles. The handles are made from 100 percent solid wood and anyone who isn't looking for a flashy bar cart needs this in their home!

Indoor/Outdoor Serving Cart by Cosco
There are also bar carts that can be used for the outdoors! Since you shouldn't bring a luxurious-looking cart outside on your porch, this serving cart by Cosco is one of the best bar carts under $250 because it's very durable and specifically designed to be used outside.
The cart's frame is coated with weather-resistant powder so the rain won't damage and rust the metal. You can place drinks, snacks, and other items on the shelves to serve outside.

Lagarde Bar Cart by Everly Quinn
Place your spirit bottles in one of the best bar carts under $250—Everly Quinn's Lagarde Bar Cart. This car cart is colored in a rich finish, but designed it with a modern look to give you the best of both worlds!
You can use this cart for serving in dinner parties or simple everyday storage of your bottles. You can never go wrong with this type of style because it never goes out of style and its construction makes the cart last longer. It's brushed in gold steel frames with removable white trays.

Charleigh Stainless Steel Bar Cart by Everly Quinn
This bar cart is certainly for show when you want to serve or display a cart with cocktails and glasses of wine to gatherings. The Charleigh Stainless Steel Bar Cart has an abstract design that's out of the ordinary when it comes to bar carts under $250!
This stainless steel circular base-finish is coated in gleaming gold with two removable trays constructed with gray faux leather. It's the perfect piece for the living room, dining room, or even your office room when you need a glass of wine to take the edge off. It's truly one of the best gifts for wine lovers. 

Three-Shelf Metal Rolling Utility Cart by Ameriwood Furniture
The more space on a cart, the better, right? In this case, if you're serving a lot of people in your house, your best bet is to provide drinks and even snacks on this cart so everything can get what they want without the hassle!
This three-shelf cart provides you with so much space, you'll even be left with extra room for any additions such as snacks. It's made from metal with a teal powder coat finish for a sleek and simple design. The teal also brings a pop of color to any room you use this in!
Gleneagle Bar Cart by Trent Austin Design
Get an eye-catching bar cart that's completely out of the ordinary but still delivers the best service for your alcohol bottles and drinks! The Gleneagle Bar Cart is among the coolest bar carts under $250 for its vintage, rustic appearance. 
This awesome bar cart is framed in sturdy metal chains with wooden surfaces. It also features metal racks to keep stored bottles in place.
Kendra Bar Cart by Laurel Foundry Modern Farmhouse
Little bar carts are perfect if your dining room isn't as large or if you aren't serving to a large group. In addition, removable trays from carts are ideal when you can easily transfer drinks from one place to another. That's why the Kendra Bar Cart is perfect to purchase because it doesn't consume too much space.
This cozy, little bar cart can be a beautiful addition to your dinner parties or gatherings when you want to serve the best big batch cocktails made with rum or other drinks. It's made from aged bronze-finish metal while two circular black trays round it all out. 

Round Gold Metal Bar Cart by Linon
If you love the round-framed bar carts, but wanted something a bit more fancy, then check out Linon's bar cart. Not only is it constructed in a circular style, but it has a gold-base finish with mirrored shelves.
The cart features hooks to hang your wine glasses and three wine storage to hold your bottles in. This is a great bar cart to display in a lounge area for guests to pour themselves their preferred glass of wine.

Bar Cart in Lavender by Sauder Furniture
I discovered one of the cutest bar carts under $250 that can be used for not only alcoholic beverages but for tea sets, too! This lavender bar cart by Sauder Furniture is ideal if you throw a tea party. It's coated in a stunning lavender finish and is the perfect piece for a tea party.
This cart provides you with two open shelves to place anything on them and it's entirely constructed from metal so it lasts longer. 

Three-Tier Metal Mesh Rolling Cart by Melody House
When you made a bunch of cocktails, it's best if you store them all in a three-tier cart! The cart by Melody House is the ideal purchase if you want display a lot of cocktails for your guests to grab on their own. Since this cart is pretty tall, you can simply leave this cart anywhere in the room and people can help themselves. 
The wheels on this cart feature double screw design that makes it easy to adjust the height and adapt to a variety of ground without causing any scratches when moving it. You can also remove the handle so it's just the shelves.

Modern Mirror Bar Cart by Bowery Hill
The Modern Mirror Bar Cart by Bowery Hill is one of the most stunning bar carts under $250 because of its elegant display. If you want a rich-looking bar cart to keep in the corner of your dining room, then I highly suggest this one because it doesn't consume a lot of space and it's finished in a top-quality material.
This luxurious bar cart features sleek mirrored shelves with a champagne finish to ensure high-end and durability. The single central beam is sturdy enough to support the top since it's constructed from solid metal.

Cashion Serving Bar Cart by Ivy Bronx
Can't go wrong with an all-black bar cart! The Cashion Serving Bar Cart is coated in a black finish that goes with almost any theme in your dining room or living room. It's a sophisticated piece that can help serve whiskey or any other spirit to guests.
This black bar cart is completely made from metal while the trays are wood. This modern piece can be the perfect addition to your dinner parties when you want to serve drinks to guests because the wheels glide smoothly on the floor and don't scratch it either.

Irvin Bar Cart by Zipcode Design
The Irvin Bar Cart is certainly a more modern piece that gives you so much room to store bottles on the bottom and cocktails on the top. You can now bring a touch of sophistication right to your home with this stunning serving cart. It's constructed from metal and manufactured wood that features a tray-styled top shelf and slots to properly hold bottles of wine.
It has a brown and a sleek chrome finish that gives it that classy look. All of your alcoholic beverages will look great when you're serving them to people with this bar cart!
Glenwood Springs Bar Cart by Trent Austin Design
The Glenwood Springs Bar Cart by Trent Austin Design is one of the best bar carts under $250 because it's simple, elegant, and it provides you with the best storage when you want to offer drinks at your house gathering.
This bar cart features a rectangular Chinese red pine wood trays with raised edges and gray iron handles on the sides. The trays are also removable which is convenient when you want to carry a tray of cocktails to guests.

Draves Iron Accent Bar Cart by Mercer41
Looking for a bar cart that doesn't even look like a cart at all? The Draves Iron Accent Bar Cart looks like a table, but it's a cart that you can simply leave in the corner of your dining room and allow guests to help themselves with the drinks.
This cart is metal with a gold finish and round glass tabletops that give off a luxurious look. It also includes decorative frames all around the cart for a more appealing look!

Chrome Metal Bar Serving Cart by eHomeProducts
Nothing beats that beautiful, chrome finish like eHomeProducts's bar cart. This cart is one of the best bar carts under $250 because not only is it very sturdy, but the finishing is breathtaking.
The frame is coated with chrome finishing and the shelves are in shiny black glass top. This is the perfect addition to any household because of its edgy look and durability to carry many drinks and bottles.

Wood Entertainment Cart by Winsome
Some of us are in need of so much storage for our drinks and bottles but there aren't many bar carts out there that can provide them with it. In fact, I came across one that both gorgeous and offers plenty of room for your best bottles and creative cocktails.
The Wood Entertainment Cart by Winsome is an awesome bar cart that can store up to six bottles of wine. It has three open shelves for serving and storage and it also features removable casters.
Rolling Portable Rattan Wicker Cart by Giantex
Lastly, if you're hosting a pool part or any other type of backyard gathering, you're definitely going to need a bar cart. You need a bar cart that's specifically designed for the outside and Giantex's bar cart is the perfect one.
This smooth, rolling cart can be handled with ease and it's equipped with a ton of storage to put away bottles and leave out drinks. It's also coated in all-weather wicker material that helps protect the cart from moisture, mold, mildew, sun damage, and more!