Proof is powered by Vocal creators. You support
James Fangs
by reading, sharing and tipping stories...
more
Proof is powered by Vocal.
Vocal is a platform that provides storytelling tools and engaged communities for writers, musicians, filmmakers, podcasters, and other creators to get discovered and fund their creativity.
How does Vocal work?
Creators share their stories on Vocal's communities. In return, creators earn money when they are tipped and when their stories are read.
How do I join Vocal?
Vocal welcomes creators of all shapes and sizes. Join for free and start creating.
To learn more about Vocal, visit our resources.
Show less
Best Breweries on the West Coast You Must Visit
Visiting the West Coast sometime soon? If you're a fan of beer, these are the best breweries on the West Coast to check out while traveling.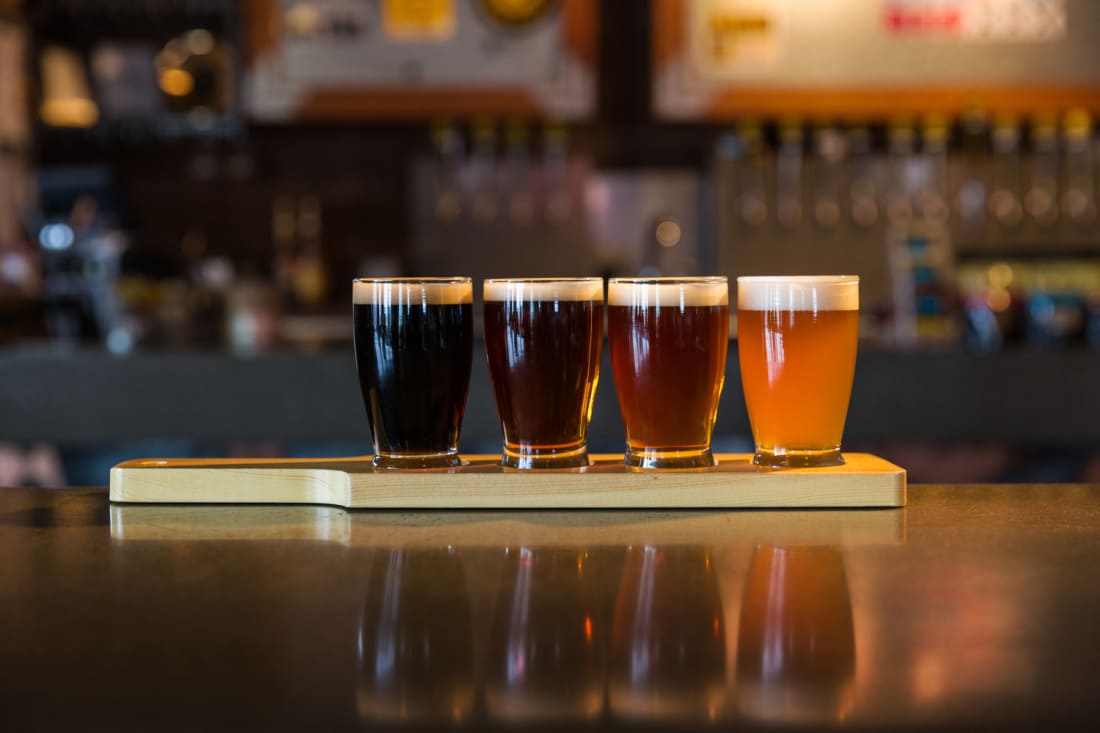 The West Coast is filled with exciting places to visit when traveling. Either you're flying to Hawaii for a beautiful vacation or road tripping to California to check out their exciting attractions like Los Angeles or Disneyland, there's so much to do on the West Coast. If you're someone who lives on the East Coast, taking a trip anywhere on the West Coast is like walking into a completely different world. Not only are the people different but so is the atmosphere. But one of the many things that people have in common on either the West or East Coast is their love for craft beer.
The East Coast certainly has some of the coolest new breweries in America, but the West Coast is no different. Some of the best breweries on the West Coast definitely have a lively atmosphere and even warmer weather in certain areas. So, if you're a fan of craft beer, I highly suggest you check out these breweries—especially if you're from the East Coast.
Sierra Nevada Brewing Co.—Chico, California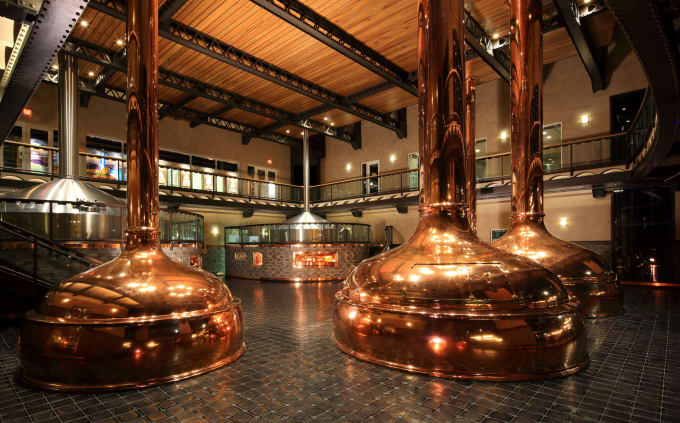 Sierra Nevada Brewing Co. is an awesome brewery that was all started by one man, Ken Grossman, who simply wanted to brew the beers he wanted to drink. After starting off with a home-brew shop and a strong passion, he went further and changed the beer world forever. That's when Sierra Nevada came along and is among so many people's favorite brewery. Even fans from across the country travel to visit this place.
Sierra Nevada hosts numerous tours like Beer Geek Tour, Heritage Tour, Brewery Tour, Hop Head Tour, and they even have tastings such as Guided Educational Tasting and Bigfoot Vertical Tasting. But their taproom is definitely the best attraction in the place. High-end looking and decorative, this is the perfect place for a bunch of friend to enjoy craft beer at. Speaking of beer, what they currently have on tap are Torpedo Extra IPA, Hazy Little Thing, Otra Vez, Kellerweis, and more. Swing by Sierra Nevada in Chico, California, for awesome beer, delectable food, and great hospitality. 
Full Sail Brewing Company—Hood River, Oregon
Full Sail Brewing Company is one of the most beautiful and best breweries on the West Coast to check out. It's located in Hood River, Oregon, and basically overlooks the stunning mountains. If you're a sucker for good view while enjoying a great craft beer, this is the place to be. Aside from that, this brewery offers tour guides that will lead and teach you all about Full Sail and how they came to be. You'll also have the chance to see their local ingredients that are used to create their award-winning brews.
Speaking of brews, you have to see their selection of craft beer. They serve all of their visitors the best craft beer you can drink. Beers like Full Sail IPA, Blood Orange Wheat Ale, Cascade Pilsner, Amber Ale, and much, much more. You can either enjoy your beverage inside, or lounge outside while facing the gorgeous mountains right across. What's even better about this place is that you can host your own private parties! Parties, weddings, anniversaries—any special occasion celebrated at Full Sail Brewery is a celebration to remember.
Deschutes Brewery—Bend, Oregon
Among the best breweries on the West Coast, here's another awesome brewery straight from Oregon—Deschutes Brewery. You can book a tour showcasing what happens deep within the brewery and how it's all created. The tour is free, too! However, they do host a brewfest that you need to book a reservation for. Their taproom is a really lively environment where they have their best craft beers on tap.
Even though you can enjoy their brews on tap, they also give you the opportunity to reserve a series of their outrageously sought after beers, too. Their year-round beers, Mirror Pond Pale Ale, Inversion IPA, Pacific Wonderland Lager, American Wheat Ale, and others will please your palate. Don't forget to check out their tasting room, too, where you can taste nearly whatever brew is on tap at the moment.
Kona Brewing Company—Honolulu, Hawaii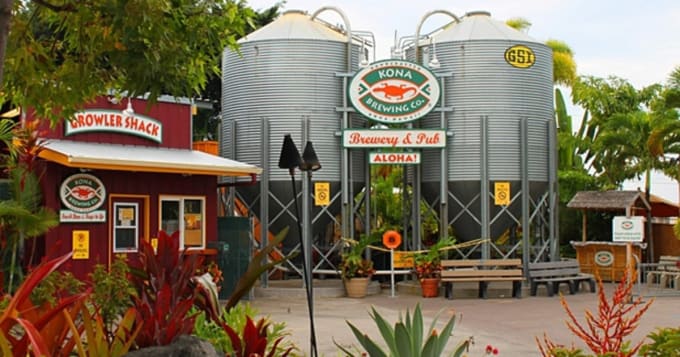 Yes, there are great breweries even in Hawaii! If you're vacationing down there and can use a few craft beers, Kona Brewing Company serves delicious beers to those who visit. Founded in 1994 and located in Honolulu, Hawaii, Kona Brewing is actually a pretty small brewery compared to the rest. In fact, you're enjoying your beer right outside in the beautiful weather.

Kona Brewing also offers tours to understand more of their story, how they brew, and of course a peek of the brewery itself. They offer delicious craft beers like Longboard Island Lager, Big Wave Golden Ale, Hanalei Island IPA, Wailua Wheat, Fire Rock Pale Ale, and many more to quench your thirst under the hot sun. 

Telegraph Brewing Co.—Santa Barbara, California
From the best breweries on the West Coast, Telegraph Brewing Co. is a brewery that's won multiple awards for their great-tasting craft beer. Some of their awards come from the Great American Beer Fest 2014, World Beer Cup 2012, Great American Beer Fest 2011, and many more. If a brewery won awards for their beer, then it's assured that their craft beer tastes amazing.
As for their beer, they have their California Ale, Stock Porter, White Ale, Telegraph IPA, and much more to satisfy your stay here. As a brewery located in Santa Barbara, California, the visit is beautiful—especially since it's located in a stunning area. You won't regret taking a trip here, because enjoying a bottle of your choice beer and enjoying the sun definitely goes hand in hand ideally.
Stone Brewing—Escondido, California
The taproom at Stone Brewing is actually an awesome place to spend time drinking with a few friends. The place is decorated in all wood with trees and plants sprouting from the center of the room. There's also a large gargoyle carved on one of the walls, which is the company's logo. A wall of windows from ceiling to floor allows rays of sunshine to make the place much more high-spirited. Either seated inside or outside, the weather in California won't take a toll on your visit. 
You can book tours around the brewery to check out how your favorite craft beer is created. But aside from that, have you seen their bistro and gardens? Not only do they serve delicious meals to enjoy with your drinks, but you're feasting in a garden right by a small river. Surrounded by nature, eating hearty meals, and sipping on great glasses of craft beer, a day at Stone Brewing is an amazing time, every time!
Midnight Sun Brewing Co.—Anchorage, Alaska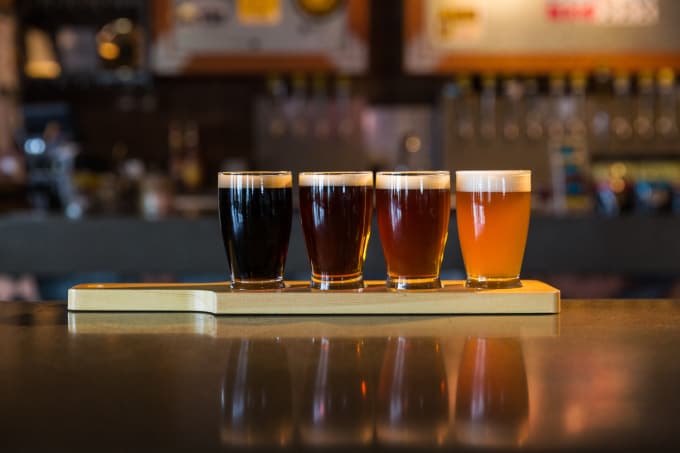 Located in Anchorage, Alaska, Midnight Sun Brewing Co. is among the coolest and best breweries on the West Coast to check out. The brewery became commercially successful producing ales and lagers for people in Alaska in 1995. But today, they're producing over 40 different ales and lagers a year and are praised for their delicious tasting beer. While most of their beers are year-round, others are seasonal or even available just once. In Alaska, Midnight Sun Brewing is known for their exotic and great-tasting yearly round beers like Fallen Angel Belgian-style Golden Ale, Kodiak Brown Ale, Monk's Mistress Belgian-style Special Dark Ale, Panty Peeler Belgian-Style Tripel, and many more to consider testing out.
Their loft is a cozy area where people can order their choice of beer and even order food that pairs with their beer. While they serve their beer in six and 12-oz glasses, they also provide beer lovers with a sampler paddle with various brews that counts as a 12-oz pour. From their hot dishes to their brunch menu, you're also getting a variety of food here. They even have a scheduled meal plan: Monday is street fare, Tuesday is tacos, Wednesday is world cuisine, Thursday is posole, and Friday is fake 'n bake.

Coin Toss Brewing Company—Oregon City, Oregon
Coin Toss Brewing Company offers a wide selection of signature brews that are available by the pint, crowler, growler, or keg. They're seen to be a great brewery that crafts the finest beers in honor of Portland's prominent history. Beers such as Half Penny Lager, Nine Eyes IPA, Setters Red, Black Hohl, Peppered Goose, Golden Goose, Fire in the Hohl, and many more are loved by so many people.

The brewery is so unique that the wall behind all of their tabs is constructed by tons of pennies! For a brewery with so much history, a passion in brewing beer, and a decorative taproom, Coin Toss Brewing is one of the best breweries on the West Coast to visit with friends for a drink.

Smog City Brewery and Taproom—Torrance, California
Experiment with amazing craft beer at Smog City Brewery in their taproom that features an array of beer so good, you might even leave with a few cases. What they currently have in their taproom are Candy Black, California Love, Coffee Porter, It Was the Sled, 'Merica, Smog City IPA, Non Barrel-Aged Buzz Worthy, and others to choose from. Their brewery is almost always packed, because people can't get enough of their craft beer.
Book a tour at one of the more unique breweries in Torrance, California, for an unforgettable experience. If you're anywhere near Torrance in California, and looking for a place to drop by for a glass of genuine craft beer, don't look past Smog City Brewery. If you bring your friends here, they'll want to come again for a second round.
Haines Brewing Company, Inc.—Haines, Alaska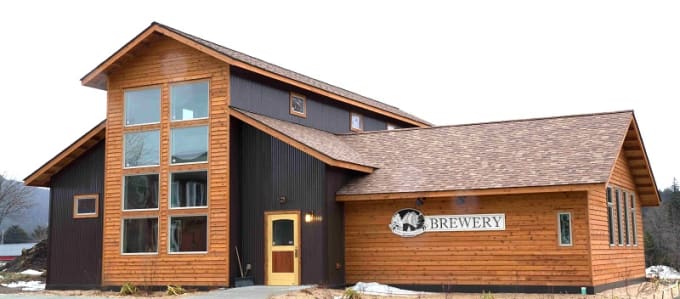 Lastly among the best breweries on the West Coast to enjoy beers at is the Haines Brewing Company, Inc. in Haines, Alaska. They offer among the finest craft beers in Alaska. While fresh seasonal and flagship brews are always on the tap, during certain seasons they offer vintage ales to enjoy in snifter glasses. They provide yearly round beers like Big Hammer, Black Fang, Dalton Trail Ale, Eldred Rock Red, and others that beer lovers enjoy indulging on. You can also buy any of their merchandise as a gift for a craft beer lover.
What's great about this brewery is that they installed solar panels to make use of their sunlight! But aside from that, this brewery is an amazing stay. Even though it's a private area, it's still known to give all guests a great time. Everyone can use a little peace and quiet while drinking beer every now and then.