Proof is powered by Vocal creators. You support
Jennifer Violet
by reading, sharing and tipping stories...
more
Proof is powered by Vocal.
Vocal is a platform that provides storytelling tools and engaged communities for writers, musicians, filmmakers, podcasters, and other creators to get discovered and fund their creativity.
How does Vocal work?
Creators share their stories on Vocal's communities. In return, creators earn money when they are tipped and when their stories are read.
How do I join Vocal?
Vocal welcomes creators of all shapes and sizes. Join for free and start creating.
To learn more about Vocal, visit our resources.
Show less
Best Dive Bars in the US to Visit
Want cheap, great alcohol in a fun, casual environment? These are the best dive bars to swing by for a quick drink.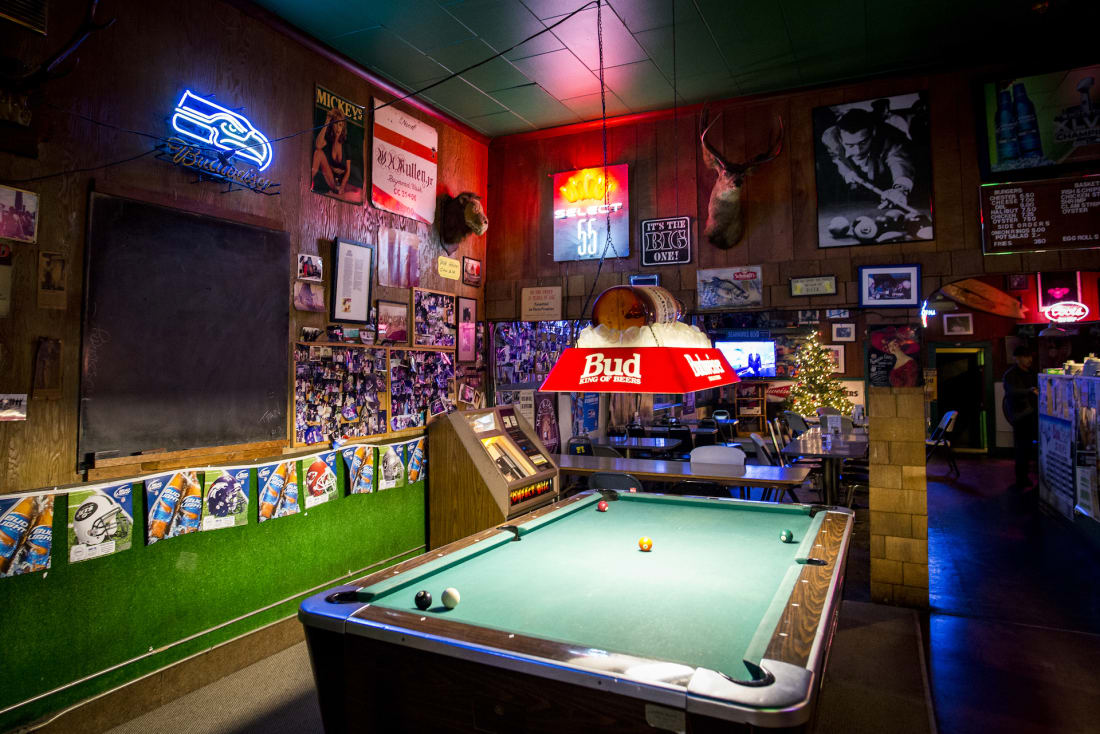 Many of us love to head out for a few drinks after work for a quick refresher with coworkers or want to simply get a casual beer at an easygoing place with friends. You don't always have to drop so much money on pricy alcohol in the city or even in a nearby bar. There are certainly bars constructed to fit your needs when it comes to fast, cheap booze. And a lot of us love going out casually if we're not into the whole fancy lounge scene.
These casual dive bars are actually all across America and so many people love heading out to them, because not only do they serve simple drinks, but the majority of them feature exotic decorations and awesome activities. Spending time here with great company calls for great conversations and just having an exciting time overall. You don't have to check out high-end bars to have a blast, these types of bars are just as great. So take a peak at any of the best dive bars in the US and see if there's one nearby you! We all can use a quick, cheap beer, especially when heading to a dive bar.
Dan's Cafe—Washington, DC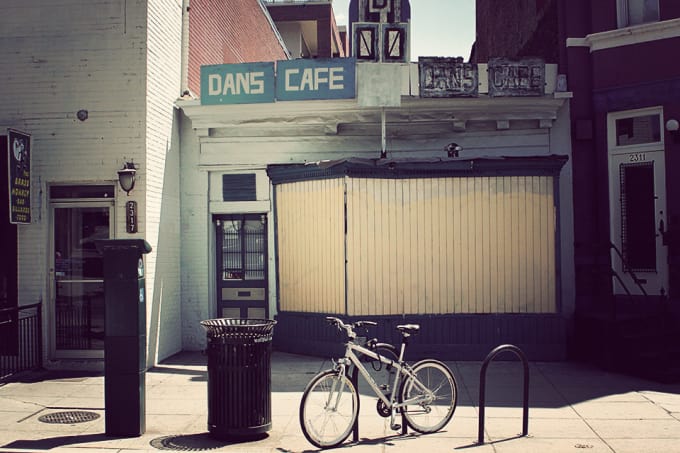 Dan's Cafe is certainly one of the best dive bars, simply because it's a place full of character. While the cafe itself is intriguing from its dark and mysterious atmosphere, it has other unique qualities like peeling wallpaper, beer posters and other signs hung in the sloppiest form, and the bartenders even being purposely unfriendly for the humor of it. It's a great place for a good laugh, but they also serve great, cheap drinks to enjoy.
What's interesting is that the bartender will give you a small bottle of booze, a bucket of ice, limes, and a can of soda or juice, and you make the mixed drink yourself—for $12! And if you're looking to have shots, they prepare a squeeze bottle of the mixture and shot glasses and you can take as many as you want. Unprofessional and grubby, Dan's Cafe is the perfect spot for a quick drink in an improper place, and it's one of the best bars in Washington, DC.
Linda's Tavern—Seattle, Washington
Walking into Linda's Tavern is like visiting an old bar from the Midwest because of their cowboy-themed decor. Every corner in this dive bar is covered in ranch-like furnishing and decor that sparks many people's interest in checking this place out when wanting a beer or any other drink. Located in Seattle, Washington, this place serves only the best cheap alcohol you can get.
Linda's Tavern is also a hit for weekend brunch from their array of delicious meals like burgers, salads, sandwiches, appetizers, and much more. They also have cool features like a pool table, an old-styled jukebox, and cozy booths to lounge with friends in. 
Double Down Saloon—Las Vegas, Nevada
Among the coolest and best dive bars in the US, the Double Down Saloon, located right in Las Vegas, Nevada, is a dark and thrilling place where signs and murals cover every inch of the bar. They're the type of bar where not only do they serve quick, cheap liquor, but their cocktail and drink menu is certainly unique. They feature drinks like Ass Juice served from a mini toilet and their most popular one, the original Bacon Martini.
Swing by on the weekend when they have live music played by great local bands. Loud, exciting, and filled with humor, they even have a casino for gambling while listening to live music and drinking great alcohol. For a place as exciting as this one, coming here with friends is a night to remember.
Gooski's—Pittsburgh, Pennsylvania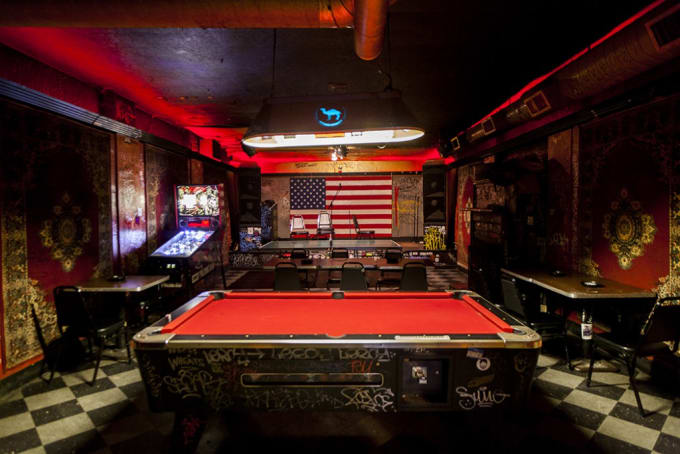 Settled in Pittsburgh, Pennsylvania, Gooski's is certainly one of the most popular and best dive bars in that area. It's a place filled with super casual seating like metal chairs, wooden tables, and uniquely decorated blood-red walls. The wall behind the bar also has mottos covering every inch. With a fiery red pool table and an awesome pinball machine, the Pittsburgh City Paper even voted that Gooski's jukebox is the best in town.
But it's not a trip to Gooski's without an order of their fresh Polish food. They also have great, local bands playing on the weekends for a more exciting night out when grabbing a few delicious, cheap drinks. And keep an eye out when playing pool for resident pool shark Bob who is easy to point out, because of his floppy hat and long gray hair.
Magnolia Bar—Louisville, Kentucky
The Magnolia Bar in Louisville, Kentucky was constructed in 1962 for the sole purpose of drinking cheap alcohol in the most unprofessional environment. Also known as the Mag Bar, this place has been in Old Louisville for generations and so many people around the area are either regular visitors or have heard of this awesome dive bar. Dark and uniquely decorated, Mag Bar's Happy Hour goes from 3 PM to 8 PM daily and all day Sunday!
Mentioned on their website, this dive bar often has live music playing on random, scheduled days. They also host events like open mic night every last Monday of each month, dance parties every last Wednesday of each month, Full Speed Fridays every last Friday of each month, and others. But when coming to visit this bar, you have to order their most famous pizza pie—Pizza Donisi. The chief created a unique, mushroom pizza with portobello, shiitake, crimini, button mushrooms, and topped with mozzarella on a porcini-dill butter sauce. It's a major hit for many constant visitors.
The Hideaway Bar—Honolulu, Hawaii
Right in an alley in Honolulu, Hawaii, The Hideaway Bar is one of the best dive bars you can check out. While this place is open from 6 AM to 2 AM, it has an array of activities to partake in while indulging on great, inexpensive alcohol. From a jukebox to darts, a pool table, and arcade games, there's something for everyone in this poster-covered place.
Since it's one of the best dive bars around, many locals and even tourists visit this place at any time of the day. If you're interested in this genuinely unique bar, make sure you swing by during their power hour where you can enjoy $2 drinks and domestic beers from 6-7 PM. It's a cash bar only, so make sure you stock up on dollar bills when heading to this super casual and laid back dive bar.
Billymark's West—New York City, New York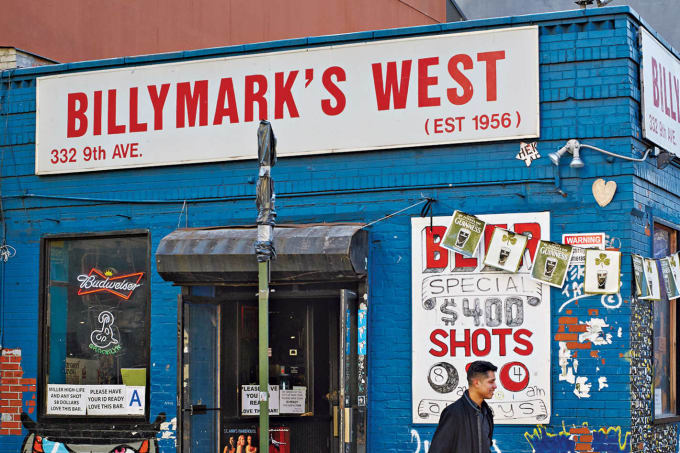 New York City has so many bars on nearly every street, but Billymark's West is a huge dive bar that people love to swing by for cheap drinks. While NYC is home to many bars with expensive drinks, this place serves amazingly cheap alcohol for someone who simply wants a quick cocktail. It's also really hard to miss the place, because of its distinct blue building and large sign.
While the walls of this place are covered in Midwest movie posters and neon signs of brewskis, the place also features an awesome jukebox, darts, and a pool table. For cheap shots and mixed drinks served in glass mugs, it's the perfect place in the city for a quick stop after work with coworkers!

Twin Kegs II—Nashville, Tennesse
Now this is an amazing place for great-tasting burgers and cheap liquor. Among the best dive bars around, Twin Kegs II, located in Nashville, Tennessee, provides the #1 burgers in town along with their full-service bar. Instead of hosting live music just on the weekends, this dive bar actually plays live music all seven days a week! They also have a comedy night on the third Wednesday every month.
Twin Kegs II has an art gallery right on site running an "Artist in Residence" monthly for visitors and drinkers to take a look at while enjoying their cheap beverage. Aside from their amazing burgers, they have other selections on their well-stocked menu like their grilled chicken salad, dozen wings, grilled chicken breast, onion rings, fried okra, and much more to munch on.
Charlie B's and The Dinosaur Café—Missoula, Montana
Among the best dive bars in America, Charlie B's is the perfect dive bar for a quick drink that's settled in Missoula, Montana. The place features darker decor, as the walls in this bar are covered as black and white photos of people. Some of the decorations are inspired by Midwest themes, like the taxidermy of a moose's head propped up on the wall.
However, many visitors actually head to Charlie B's for lunch, because the bar is attached to the Dinosaur Café. The cafe serves top-quality and delectable Cajun food and so many locals can't get enough of it. And once you're finished eating, you can head right back to the bar for a few cheap, great drinks. 

Tiki Ti—Los Angeles, California.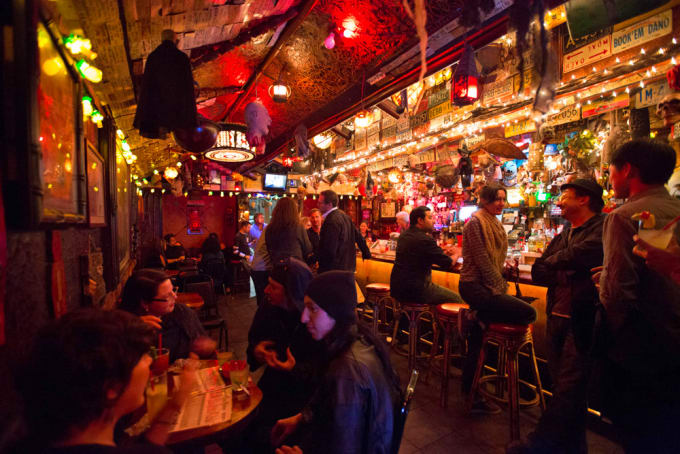 Last, but definitely not least among the best dive bars in the US, is Tiki Ti, located right in Los Angeles, California. Decorated in Hawaiian decor, tikis, and super bright and colorful neon lights that are hanging around the place, this dive bar is where all visitors come to grab well priced, unique tropical drinks. For a tiny bar, there's so many cocktails and drinks to choose from on a menu featuring 94 signature drinks! And many of these drinks are not found anywhere else.
Exotic, tropical, and super friendly, this is certainly the ideal place to spend a Saturday night at with a bunch of friends. If you're looking for a dive bar that's cheap but features a great atmosphere, Tiki Ti is calling your name.