Proof is powered by Vocal creators. You support
Lynne Shumaker
by reading, sharing and tipping stories...
more
Proof is powered by Vocal.
Vocal is a platform that provides storytelling tools and engaged communities for writers, musicians, filmmakers, podcasters, and other creators to get discovered and fund their creativity.
How does Vocal work?
Creators share their stories on Vocal's communities. In return, creators earn money when they are tipped and when their stories are read.
How do I join Vocal?
Vocal welcomes creators of all shapes and sizes. Join for free and start creating.
To learn more about Vocal, visit our resources.
Show less
Best Jell-O Shot Recipes
From college party favorites to miniaturized takes on classic cocktails, here are some Jell-O shot recipes to suit every palette.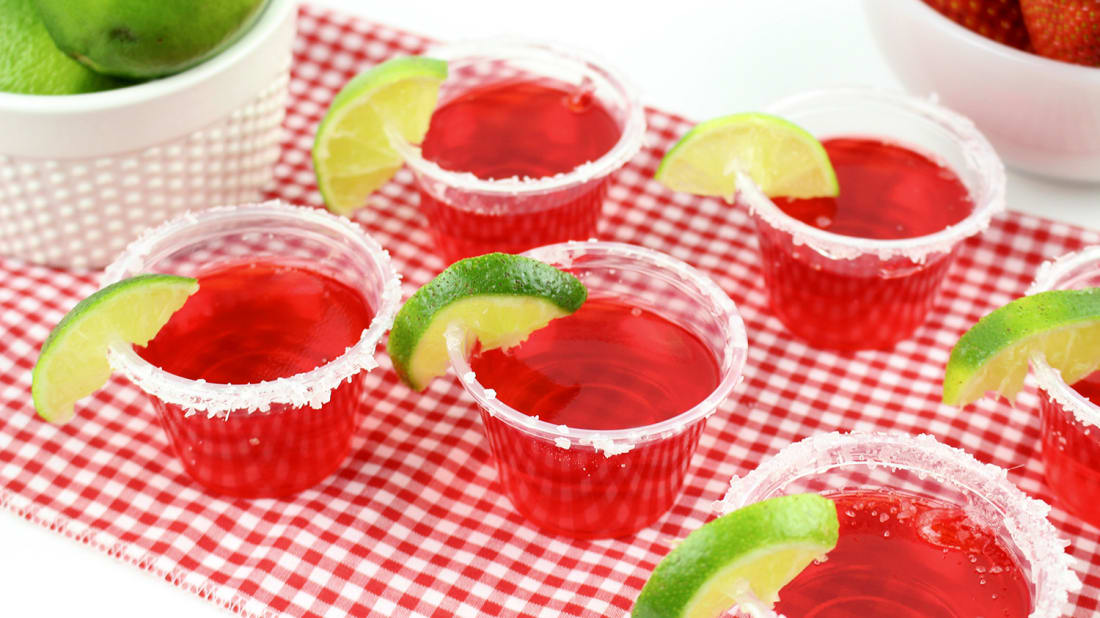 Whether you're channelling your inner college student or you actually are a college student, Jell-O shots can be a fun and surprisingly tasty addition to any party. While the traditional recipe calls pretty much just for vodka and Jell-O mix, there are a number of ways we can elevate the Jell-O shot to suit your needs. One of my personal favorite practices is to recreate some of my favorite classic cocktails in Jell-O shot form. Made properly and with some tasteful garnishes, these Jell-O shot recipes are just the thing to bring your next party to the next level.
Basic Jell-O Shots
Your traditional vodka-based Jell-O shots aren't supremely tasty (the Jell-O is not nearly flavorful enough to mask all that vodka), but they are a classic for a reason. If you aren't looking to get too fancy or you need to crank out a lot of shots for a large party, all you need is about 10oz of vodka and two 3oz packages of Jell-O powder (any combination of flavors works).
Bring two cups of water to a boil in a small saucepan, then remove from heat. Add the Jell-O mix and stir until it's completely dissolved (two or three minutes). Then add a cup of cold water and the vodka to the mixture and stir briefly. Distribute among shot glasses and refrigerate until set (at least four hours or so). For this recipe in particular, plastic shot glasses work better than glass. After your fourth or fifth Jell-O shot, it somehow becomes a lot easier to break things.
Strawberry Beer Jell-O Shots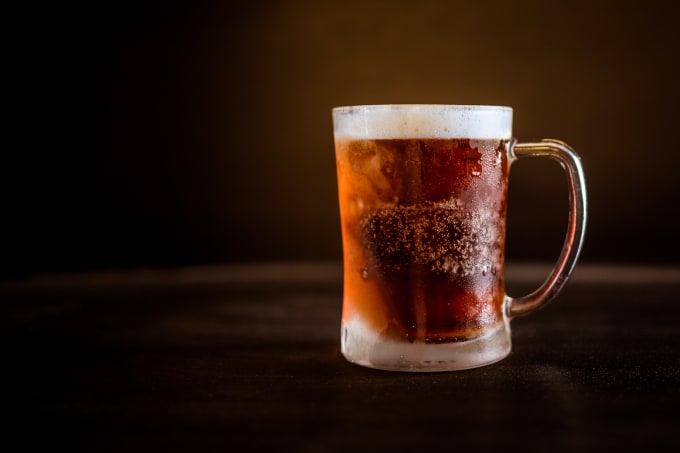 A beer-based Jell-O shot may sound off-putting at first, but there are plenty of tasty beer cocktails that may surprise you. This mixture, in particular, is surprisingly flavorful, as the maltiness of the beer combines quite well with the strawberry Jell-O. You'll need two packages of Strawberry Jell-O mix and 16oz of a strong, cheap beer. Steel Reserve is my recommendation here, but use your preference.
Begin making your Jell-O like normal by boiling two cups of water, removing from heat, and mixing in the Jell-O mix. Simply add in the 16oz of beer and distribute among plastic shot glasses or paper cups. Refrigerate until set.
Tropical Jell-O Shots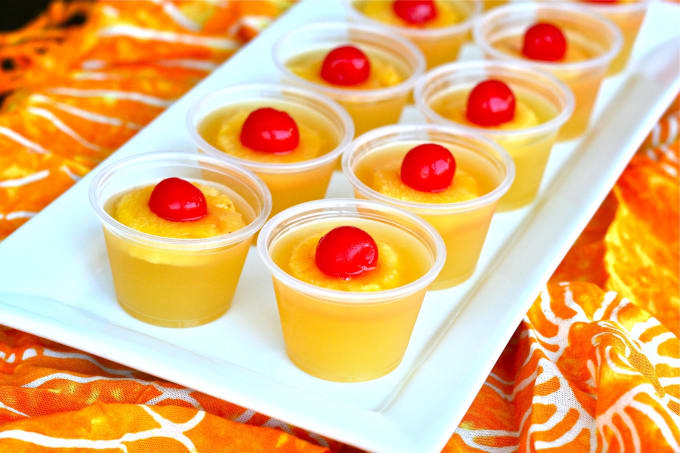 While flavorless cheap vodka is the spirit of choice for most Jell-O shots, rum is an excellent vehicle, and adds a nice tropical lilt to your Jell-O shot recipes. This tropical recipe provides a lot of room for experimentation because you can use pretty much any flavored rum you like. Cruzan offers many delicious flavors including mango, banana, and key lime. Take your pick and get a bottle. You can also get creative with the Jell-O flavors, but I prefer pineapple for this recipe.
Mix two packages of your pineapple Jell-O in two cups of boiling water, just like with the other recipes. Add one cup of your choice of Cruzan flavored rum before distributing among shot glasses. Refrigerate until set.
Cuba Libre Jell-O Shots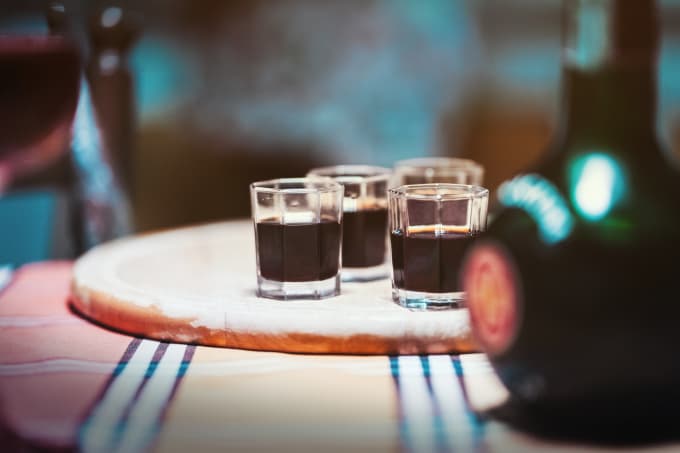 A Cuba Libre is a fun and easy cocktail that is essentially a Rum and Coke with lime. To make a Jell-O shot version of this drink, we'll use Lime Jell-O mix and Coca-Cola instead of water. Finally, we'll use a spiced rum like Sailor Jerry, which will add more flavor and sweetness than a plain white rum.
Pour one cup of Coca-Cola into a small saucepan over medium heat. While you wait for that to boil, mix a cup of refrigerated Coca-Cola with a cup of spiced rum in a mixing bowl. Once the Coke boils, take it off the heat and add two packages of lime Jell-O. Mix until dissolved. Finally, add the contents of the refrigerated mix and distribute among your choice of shot glasses. Refrigerate until set.
Whiskey Sour Jell-O Shots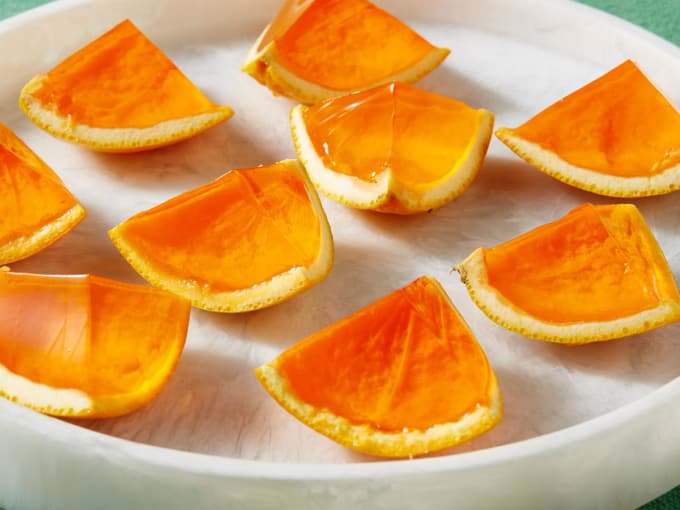 I usually prefer to drink whiskey neat rather than hide it in Jell-O shot recipes, but it is possible to make a unique whiskey sour variation in Jell-O shot form. Smooth Irish whiskeys like Jameson work well in this recipe. Cheap Canadian whisky like Canadian Club is also great—it's almost as smooth as Jameson, but far cheaper. Any citrus Jell-O works well for this recipe. I find orange Jell-O provides the most body and balanced flavor. 
Start your Jell-O like normal with two cups boiling water and two packages of Jell-O mix. Once the Jell-O is dissolved, mix in a cup of cold water and a cup of whiskey. Pour into shot glasses and refrigerate until set.
Malibu Jell-O Shots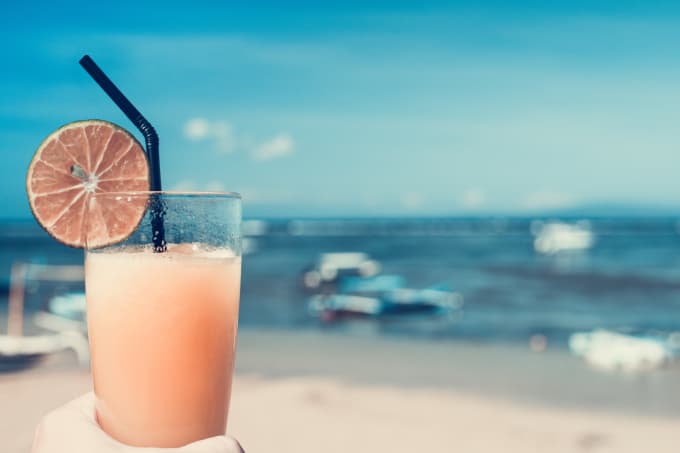 Malibu Coconut Rum is in its own category. Part rum and part coconut liqueur, it has a smooth sweet flavor that lends itself perfectly to Jell-O shot recipes. These super easy Malibu Jell-O Shots just require one package of watermelon Jell-O and 1 cup of Malibu Coconut Rum. Keep the rum in the fridge before you make this recipe, as it needs to be chilled.
Boil one cup of water in a small saucepan and remove from heat. Mix in the Jell-O until completely dissolved. Add one cup chilled rum before distributing to shot glasses. Refrigerate until set.
Margarita Jell-O Shots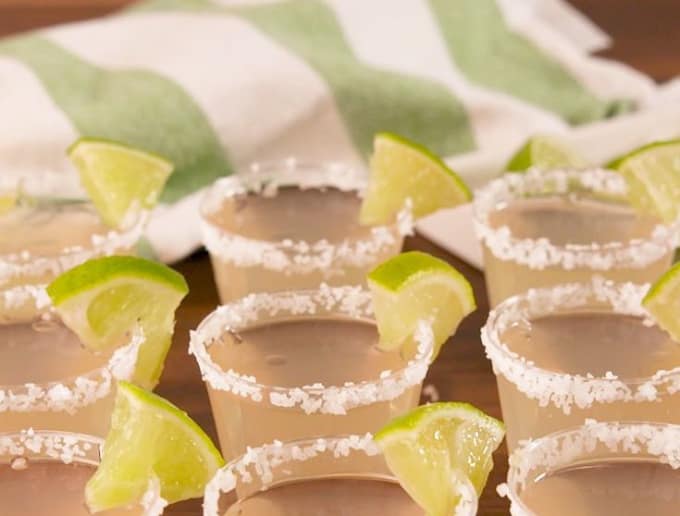 The Margarita is one of my all-time favorite cocktails. The best thing about the basics of Margaritas is that the magical combination of tequila, triple sec, and lime is just as delicious no matter how fancy it is; whether it's a top shelf, Añejo tequila Margarita, a frozen blended slushy Margarita, or, yes, a Jell-O shot Margarita. Tequila and Triple Sec are equally important to this recipe, so you'll need both in addition to two cups of Lime Jell-O.
Make the Jell-O like normal by dissolving the mix into boiling water. Use 1 and 1/4 cup cold water, 1/2 cup tequila, and 1/4 cup triple sec, and mix well. Distribute into shot glasses and refrigerate until set.
Sangria Jell-O Shots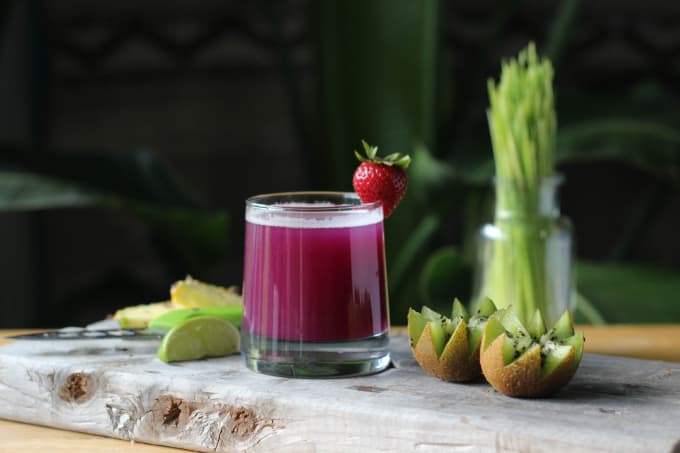 You better believe that if there are Jell-O shot recipes with beer, there are also some with wine! Mixing your favorite wine with a couple fruity Jell-O mixes creates a nice sangria flavor, and these are also incidentally one of the tastiest shots on this list (probably because they are also the weakest). Lighter Jell-O flavors like lemon and orange complement this recipe without overpowering the wine, but feel free to experiment. When it comes to your choice of wine, just about anything works. I prefer red wine, but white works just as well—it's up to you! Check out these easy to make sangria recipes if you need ideas.
Begin like normal with two cups of boiling water and one package each of lemon and orange Jell-O mix. Once the mix is completely dissolved, mix in a cup of chilled wine, distribute among plastic shot glasses, and refrigerate until set.
Cinnamon Jell-O Shots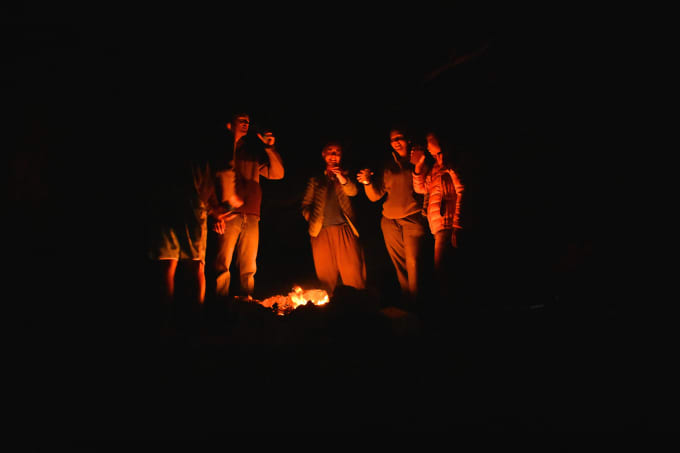 It doesn't get more "college days" than using a cinnamon whisky like Fireball. Alternately, if you still suffer from Fireball PTSD, another cinnamon flavored liqueur like cinnamon schnapps will work as well. The cinnamon is so overpowering that your choice of Jell-O flavor doesn't matter much. I like to use cherry for the red color, if nothing else, but feel free to experiment.
Begin your Jell-O like normal with two cups boiling water and two packages of cherry Jell-O. Once the Jell-O is dissolved, add in 1/2 cup cold water and 1 and 1/2 cup Fireball whisky, cinnamon schnapps, or whatever your chosen products are. Distribute among shot glasses and refrigerate until set.
Coconut Daiquiri Jell-O Shots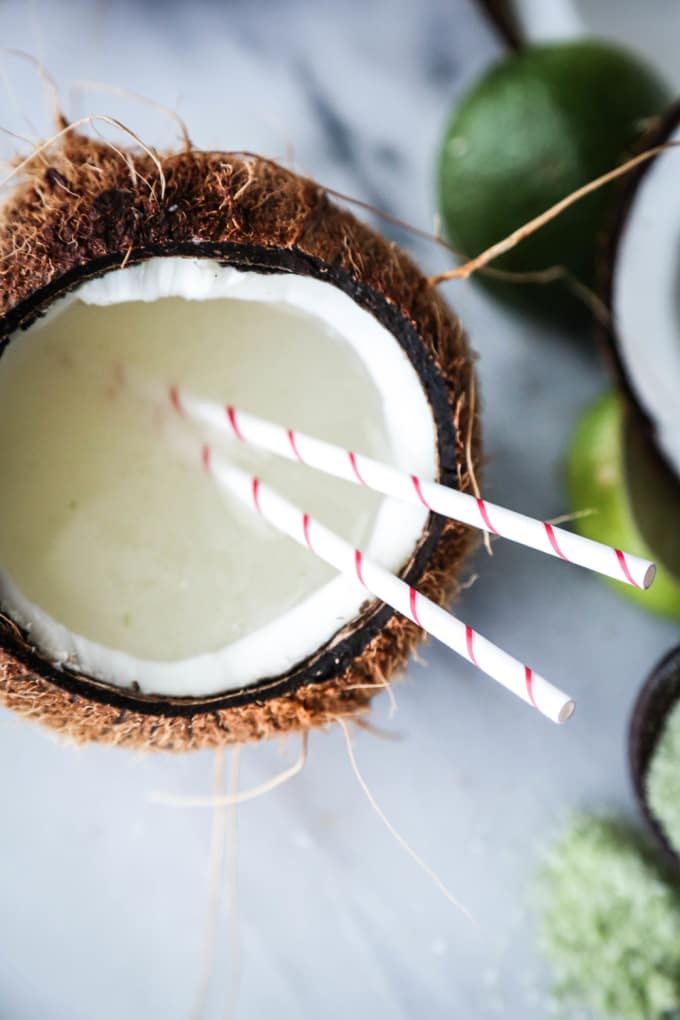 The Daiquiri is another classic cocktail composed of white rum, lime juice, and sugar that deserves to be enjoyed in its traditional form. It also works strangely well, however, as a Jell-O shot. Lime Jell-O is a must for this recipe, and we'll even complement it with some fresh lime juice, but you can get creative with the rum. For a coconut daiquiri, feel free to use that Malibu Coconut Rum. You can also use just about any other flavor of rum you like, but there's something special about the classic white rum variation.
Begin this recipe just like everything else, with two cups boiling water and two packages of lime Jell-O. Add in a cup of chilled rum and 1/2 cup lime juice (freshly squeezed if possible). Distribute among your choice of shot classes and refrigerate until set. If you used fresh limes, this is a great opportunity to garnish your Jell-O shots with lime zest or some thin slices of lime peel. Adding a little bit of flair really ups the class factor, which isn't always easy to do with Jell-O shots!