Proof is powered by Vocal creators. You support
George Nekilan
by reading, sharing and tipping stories...
more
Proof is powered by Vocal.
Vocal is a platform that provides storytelling tools and engaged communities for writers, musicians, filmmakers, podcasters, and other creators to get discovered and fund their creativity.
How does Vocal work?
Creators share their stories on Vocal's communities. In return, creators earn money when they are tipped and when their stories are read.
How do I join Vocal?
Vocal welcomes creators of all shapes and sizes. Join for free and start creating.
To learn more about Vocal, visit our resources.
Show less
Best Rooftop Bars in America You Should Visit
Want to know what the exotic and stunning rooftop bars are in the US? These are the best rooftop bars in America that are a guaranteed great time on every visit.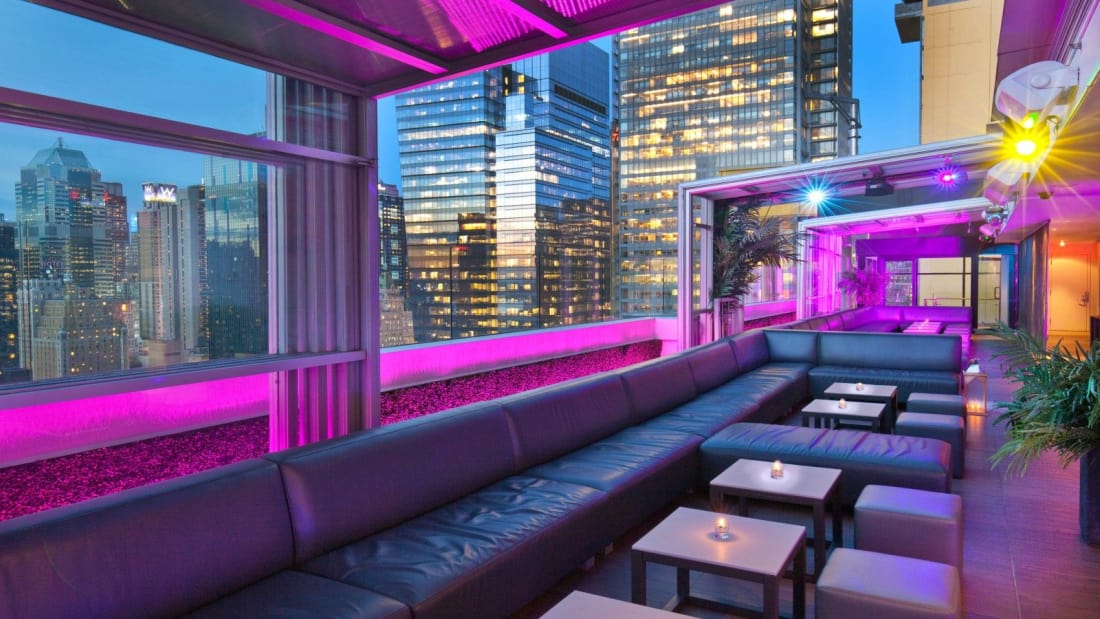 The atmosphere of rooftop bars is always exciting. Not because are we lounging on top of a many story building, but the views are breathtaking—especially if you're lounging on a rooftop bar in the middle of a major city. You're surrounded by delicious drinks, great music, and interesting people; what more would you want from a rooftop lounge? In fact, many of these best rooftop bars in America are much more than good company and drinks. Many of these lounges are beautifully decorated to fit the setting and atmosphere. I'm talking about high-end furnishing and unique architecture.
From Los Angeles to Detroit and Scottsdale, there are amazing rooftop bars to lounge at with friends. Even though major cities like Chicago and New York City have outstanding rooftop bars, we can't simply ignore the ones located in overlooked cities like Scottsdale and Austin. In actuality, there are awesome rooftop bars all across the country and we don't even know about them. Whether you're traveling across the country or simply interested in rad rooftop bars, these are the best rooftop bars in America to check out yourself.
Assembly—Philadelphia, Pennsylvania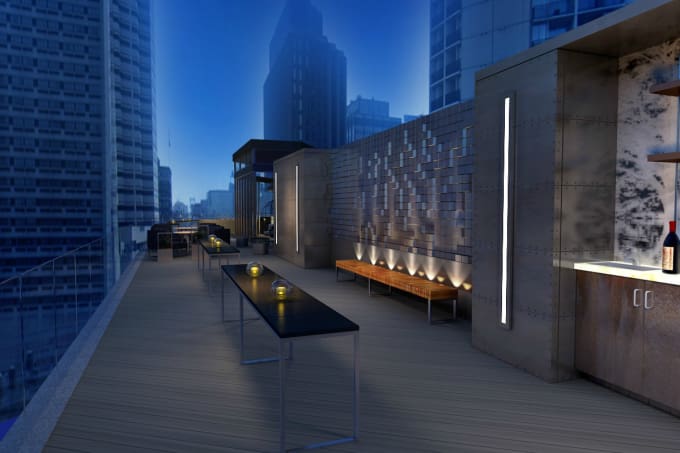 Right in the center of Philadelphia, Pennsylvania, the Assembly rooftop bar is an astonishing place that has the best view of the Benjamin Franklin Parkway. Nine stories high with an exquisite outdoor space, their rooftop bar is the perfect spot to wind down and lounge with a bunch of friends while surrounded by friendly company. With lounge couches in very corner, Assembly also features a couple of fire pits to huddle around with your drinks in hand.
Instead of individual glasses, sparkling wine or high-end champagnes are offered by the bottle to share around in your group. With a sophisticated atmosphere such as this one, no rooftop bar is more relaxing in Philadelphia than the Assembly. Their rooftop deck is ideal for lounging around and enjoying the finest drinks and views in the Logan Square Neighborhood.
The Lodge at Gallow Green—New York City, New York
There are so many—so many rooftop bars in New York City, that many of us can't even keep up. However, among the best rooftop bars in America, The Lodge at Gallow Green in the city is a stunning rooftop bar for many reasons. For starters, the rooftop is basically a magical garden where you're surrounded by tall, green plants and plethora of flowers in full bloom.
It's a very private atmosphere where walls of plants are dividing every seating and couch area. In the center of most of these seatings are fire pits to keep you warm if you're visiting during the colder seasons. So while enjoying your drinks, you're surrounded by nature, sitting under tents, and by the fire. It's like camping on a rooftop in New York City. How cool is that?
Cindy's Rooftop Restaurant—Chicago, Illinois
Spacious, bright, and lively, Cindy's is a beautiful rooftop bar that's ideal for brunch or lunch. Visiting this place in the day time is probably the best time, because not only does the sunlight completely brighten up the place, but it'll be easier to check out the amazing view. Cindy's overlooks famous landmarks and art pieces like The Bean.
This rooftop bar is certainly refreshing, because it feels as though you're having a picnic in a greenhouse. Glass windows from ceiling to floor, you and your friends can enjoy meals or drinks either sitting on the wooden benches inside, or sipping your drinks while overlooking Chicago. Plus, Cindy's offers some of the best cuisines ever to feast on—family style. Cindy's Rooftop Restaurant can be among the things to do for your first time in Chicago. 
The Barrymore—Las Vegas, Nevada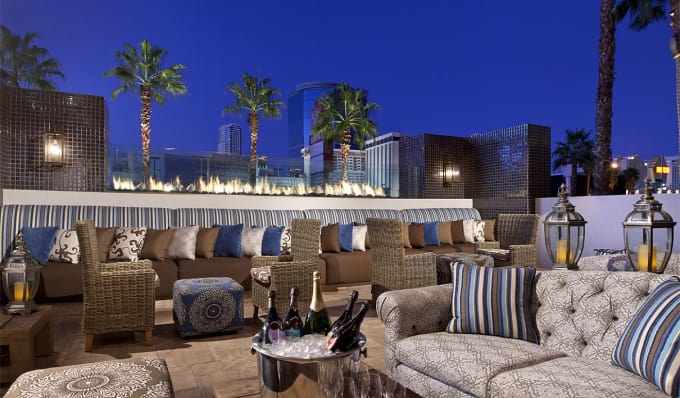 The Barrymore is, without a doubt, one of the top best rooftop bars in America that I've ever seen. If you're looking for a high-end atmosphere and surrounded by expensive-looking furnishing, The Barrymore is calling your name. Head to Las Vegas in Nevada to check out this absolutely stunning rooftop bar.
From their velvet couch cushions, mirrored walls, leather bar stools, gold-patterned wallpaper and ceiling, you can just image the wealth this place looks. And their outdoor deck is no different. This place also features an amazing view in the center of Las Vegas. However, outside, you and your friends can lounge in their comfortable couch area, accompanied by fire pits, while popping a bottle of champagne straight from the ice bucket. If you want to have fun on your Las Vegas trip, I highly suggest this rooftop bar. Nothing speaks luxury than The Barrymore. 
Perch—Los Angeles, California
This French-inspired rooftop bistro is loved by so many people in Los Angeles, California. When lounging here, it feels as though you're floating at the skyline, that's how mesmerizing the place is. While Perch offers two outdoor fireplaces, various fire pits, lounges, and table seating both indoors and out, it's the perfect spot for going on dates. Romantic and private, Perch is a relaxing and dainty atmosphere that also provides the best drinks and cocktails you can ask for.
Once you enter the rooftop, you're greeted with gorgeous antique-inspired furniture, plush lounge couches, and stunningly designed woodwork. This place is like a slice of Paris right in Los Angeles. In addition, Perch has lush landscaping to surround you by nature as well as a breathtaking view of Downtown LA. 
Lookout Rooftop and Bar—Boston, Massachusetts
Now, this is a really cool rooftop bar if you're visiting Boston, Massachusetts—Lookout Rooftop and Bar. Among the more unique and best rooftop bars in America, this rooftop bar features a gorgeous view that overlooks the iconic city. With decorative seating and unique-designed bars, this place is a major hit during the summer.
But wait, are you aware of what this rooftop bar looks like in the middle of winter? No, the place doesn't shut down until the warmer seasons come along. They put out igloos for people to lounge in! Up until April 16, Lookout Rooftop and Bar gives visitors the change to sit in these exclusive pop-up, heated igloos outside on the rooftop deck. What's awesome is that each igloo features a vibrant light running around the igloo. So, even though we're in the core of winter, Lookout Rooftop and Bar doesn't care about the cold when their colorful, heated igloos keep all loungers comfortable outside.
Exodus Lounge—Detroit, Michigan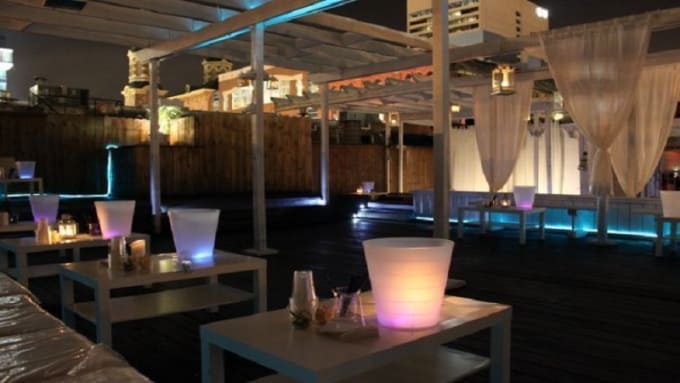 If you're looking for an energetic, thrilling, and loud rooftop bar to check out with your friends, the Exodus Lounge in Detroit, Michigan, is the one for you guys. Draped with white curtains around the place, white lounge chairs and benches, and neon lights outlining the area, Exodus Lounge is an exciting place if you're looking for more action.
While the inside of this place is where the party mostly occurs, you can still wind down and relax on their rooftop lounge. With delicious cocktails, great music, and amazing hospitality, Exodus Lounge in Detroit is where most young people head to for a night to remember. You can also host your parties there for an unforgettable special occasion.
The Casablanca Rooftop Lounge—Scottsdale, Arizona
Yes, The Casablanca Rooftop Lounge in Scottsdale, Arizona, definitely made it on the list of the best rooftop bars in America. While their inside lounge includes stunning, luxurious furniture, their patio offers a more modern and mellow vibe. Cozy, decorative, and surrounded by twining, brilliant lights, this rooftop is where so many people head to in Scottsdale. It's the perfect place to catch up with friends and drink delectable beverages.
Whether you're sitting by the fire pit or under the wooden cabanas, you're also accompanied by either a DJ or live music, which are usually scheduled on the weekends (you can check on their website). However, while their rooftop deck is their main attraction, they also offer a speakeasy area for a more private lounging. 
Top of the Park at The Phelps—Cincinnati, Ohio
Top of the Park at The Phelps is a stunning rooftop bar where you're basically sitting across panoramic views. From their glass counters outlining the place to their cozy lounge couches and fire pits, you can sit anywhere by the glass counters and sip your drink while watching the sun set behind Cincinnati, Ohio. They're also well-known for their mouthwatering, hand-crafted cocktails like their signature Cincy Sunset and Rooftop Lemonade.
Relaxing, spacious, and hip, this rooftop bar is one of the best areas to enjoy a drink at in Cincinnati. Not to mention that the place has the best view of the river and bridges. On certain days, there is live music from local bands playing great music while you lounge with your friends and enjoying cocktails. Their menu of fine foods can fulfill your hunger and pair with your drinks, too.
Rocks on the Roof—Savannah, Georgia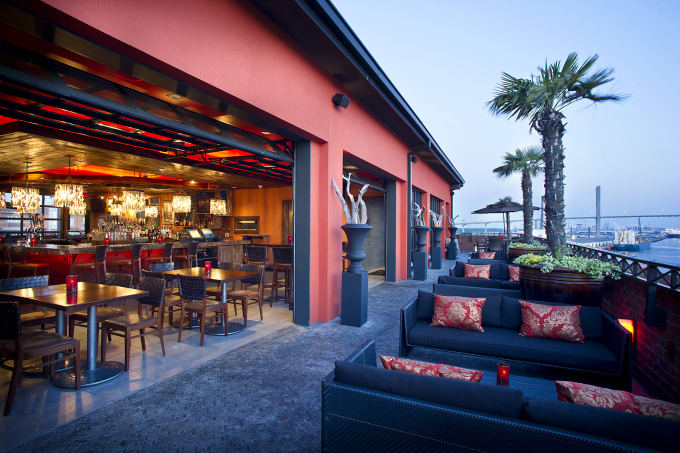 Lastly, Georgia doesn't have many rooftops, but this specific one is certainly astonishing. Among the best rooftop bars in America, Rocks on the Roof is a positive-vibe area that's fancy in furnishing, but mellow in atmosphere. While overlooking Savannah River and the Historic District, you'll always get top-quality service here. 
Their decor is truly unique among other rooftop bars, because most of their furnishing was inspired by nature—like their chandeliers that completely look like trees sprouting from the ceilings. Rocks on the Roof not only offers a stay like never before with their modern-styled lounge couches and rectangular fire pit, but their menu of delicious meals is what many people consider when spending the night here. You can feast on great cuisines, enjoy cocktails, and sit by the amazing view of Savannah, Georgia.