Best Snifters for Cognac You Need for Your Collection
Whether you're a collector, like drinking quality brandy, or want to perfect the experience altogether, try some of the best snifters for cognac.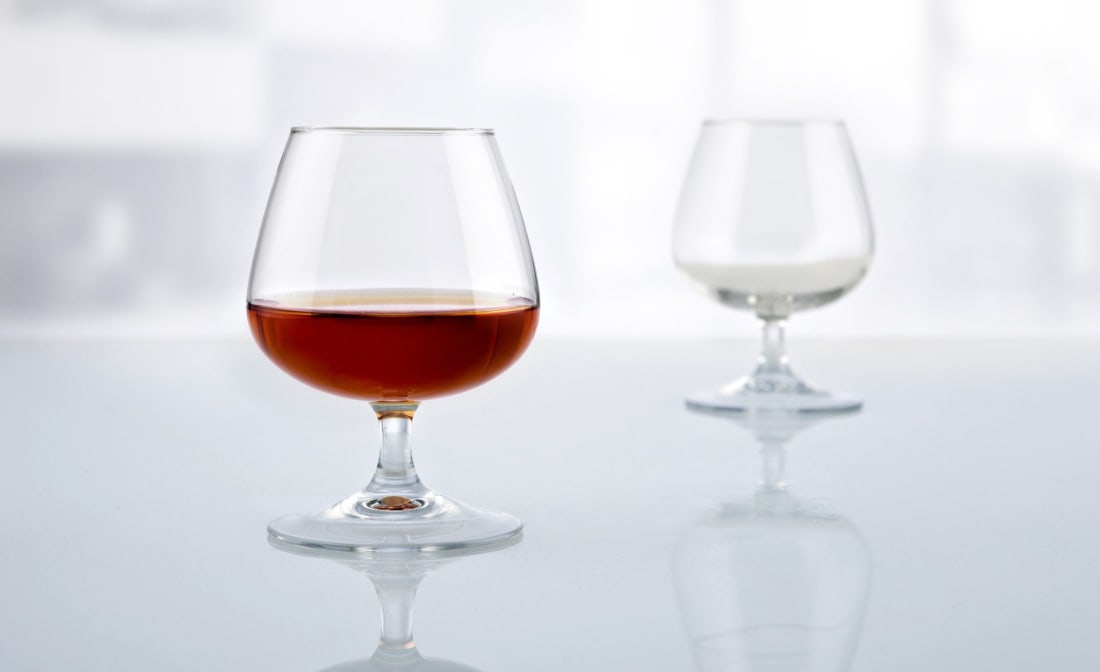 Right now you might be asking: What's a "snifter"? While most cognac or heavy alcohol connoisseurs may know right of the bat, not everyone can understand the differentiated meanings behind drinking glasses. In this case, a snifter would be a glass dedicated to the drinking of either cognac or brandy, but that's not to say that's all they're good for. In fact, snifters' very name derives from their how they are used: fermenting aroma.
It's not always about finding the best affordable cognacs. It can easily come down to the size and shape of your glass, how crazy is that? The balloon shaped, bowl-like accents of a snifter, in conjunction with that of a tulip glass, or even wine glass for that matter, makes it a much better option when drinking brandy. It's actually rather difficult to find the best snifters for cognac, as there are many different varieties. To decide the right shape and size of your own favorable snifter, follow this guide on different cognac glasses. Choosing among any of the following will ensure your cognac is in good hands—just don't drop any of them.
Michelangelo Collection by Luigi Bormioli
Luigi Bormioli is known for making not only quality glass sets, but for providing some of the finest snifters on the market. Their Michelangelo collection, pictured above, should be known as among the best snifters for cognac, but it really comes down to comfort.
The Michelangelo set comes with four brandy glasses, each one superiorly cut and seamlessly designed with reinforced titanium stems for a high resistance to breakage. That's both beautiful quality and durability in the palm of your hand with a 13%-ounce capacity to boot.
Lismore Red by Waterford
Not to mention the really cool design, making you look like something from Dracula or Angel, Lismore Red by Waterford has a partial crystal embedding, giving it that sleek, cut design that is unrivaled. You can also get them in black, in case the red was a little too much for your taste.
It's among the best snifters for cognac, simply because of weight, durability, and overall tasting. When drinking from crystal, you also can smell the alcohol much better than in any other glass, raising senses, and giving you a much more potent cognac experience.
Pure Cognac Glass by Schott Zwiesel
The "Pure" cognac glass made by Schott Zwiesel is among the best snifters for cognac. In addition to it being made of Tritan crystal, and a set of six rather than four or two, the individual glasses can fit up to 20 ounces of capacity.
Not for nothing, but having the monicker pure in your glass set is obviously a standard in pursing high quality, most outlasting of all kitchenware. If you want the best in brandy glasses, this Tritan crystal glass is sure to make every occasion of high fashion.
Relax Cognac Glasses by Final Touch
If you're one of the people who likes tasting your way to knowledge of your favorite spirits, Final Touch's Relax cognac glass is sure to be on your wishlist. This is also where shape and size come into play, where scent is used to optimize your brandy drinking experience.
In addition to the prongs on its bottom, giving it a titled stance, there's also a peaked center, allowing for even more of an increased aroma when sipping, too. Among the best snifters for cognac, Relax is undoubtedly a must have for collectors and affluent brandy drinkers alike.
Cognac Glasses by Normann Copenhagen
Another addition among the best snifters for cognac is none other than Normann Copenhagen's tilted brandy glass, which serves around 16 ounces of your favorite cognac.
Despite the fact that you only get two glasses, the set is perfect for the drinkers who love to enjoy scent as much as taste. These glasses are your top shelf cures and can ensure that you get the best out of your cognac. For only $60 these titled glasses, which surprisingly prevent spills more so than you may think, can be yours.
Expert Cognac Glasses by Rogaska Crystal
Rogaska Crystal is a well-known brand that makes some of the most quality and intricate designs. As is the case for their line of balloon glass sets, coined "Expert," since no one else can emulate their superiority.
As one of the very best snifters for cognac, the Expert can't be beat. It carries up to 25 ounces, weighs just the same as any normal drinking glass, and is made of crystalline, giving it that beautiful shine and sleek fit in your hand. Grab one today for as low as $50!
Vinoteque Brandy Snifter by Luigi Bormioli
With this set of the best snifters for cognac, you get six brandy tulip shaped glasses that bring classy, superior drinking to your every occasion. Bormioli is a household name in the glass department, and their products are top of the line in every category.
This one is made out of SON.hyx glass, which utilizes a durable and break-resistance crystalline formula. It's also one of the few dishwasher safe brandy glasses that brings sophistication and flavor to your home bar.
Street Cognac Glasses by Orrefors
Coined "Street," Orrefors' perfect cognac glasses give credence to their perfected cutting techniques and superior designs. This set of 2 brandy snifters is perfect for the collector in your life and adds a touch of personality to your cognac glass.
For the most exquisite experience and untimely look when drinking cognac, Orrefors "Street" makes for one of the best snifters for cognac. You won't find any other brandy glasses that look as good and bring you the same quality flavor as these.
Distiller Cognac Snifter by Ravenscroft
For drinking cognac, wine glasses aren't always recommended. However, when it comes to the best snifters for cognac, Ravenscroft Crystal has some of the most daunting looks that also bring you expertly durable products, too.
As is the case with their set of four wine glasses, all made specifically for the cognac connoisseur. With its lead-free material, you don't have to worry about taste, since quality design is in Ravenscroft's name. It must be hand washed, though, but that's only because it's true crystal.
VINUM Cognac Glasses by Riedel
For just under $40, you get two expertly made tulip glasses that are machine-made and dishwasher safe. Riedel is also a well-known brand for glassware, and their VINUM set are some of the best snifters for cognac.
The product also has a small surface area that limits evaporation. The flute-shaped design helps to bring delicious taste and savory aroma at the same time, while then blending this experience. Despite a 6 ounce capacity, the VINUM glasses emphasize the tempering of alcohol and mix of senses to bring quality tastes in every sip.
Snifter Brandy Glass by Barski
Barski's sweet looking and mouth blown crystal glass is one of the best snifters for cognac, despite it being last on this list. Made of European glass, the snifter is artistically designed with intricate cuts and grooves, giving it both traditional and sophisticated looks.
While it may look like an extremely fragile piece of glass, Barski's product is dishwasher safe and doesn't lose quality over durability. If you want one of the best snifters for cognac, this product is among the few that qualify.