Delicious Winter Cocktails to Keep You Warm This Season
Looking for the best drink to make for your snowed in nights at home? These are the most delicious winter cocktails to keep you warm this season.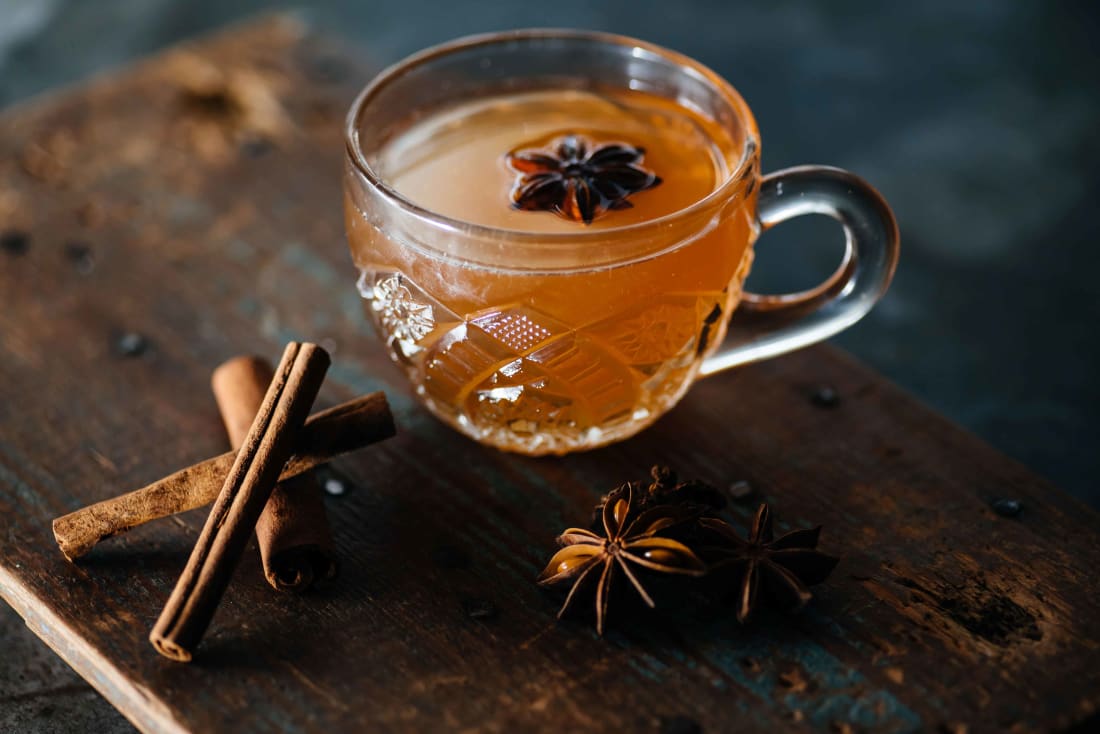 Who doesn't love to have a great drink, fireside, to distract you from the cold weather outside? To complete your winter night-in, create one of these cocktails that are sure to have you feeling all warm and fuzzy.
Plus, have some fun titling yourself as the bartender for the night. Grab a few friends, crank the heat up, put on a Christmas movie, and create the best winter cocktails to have a great night at home.
Pumpkin White Hot Chocolate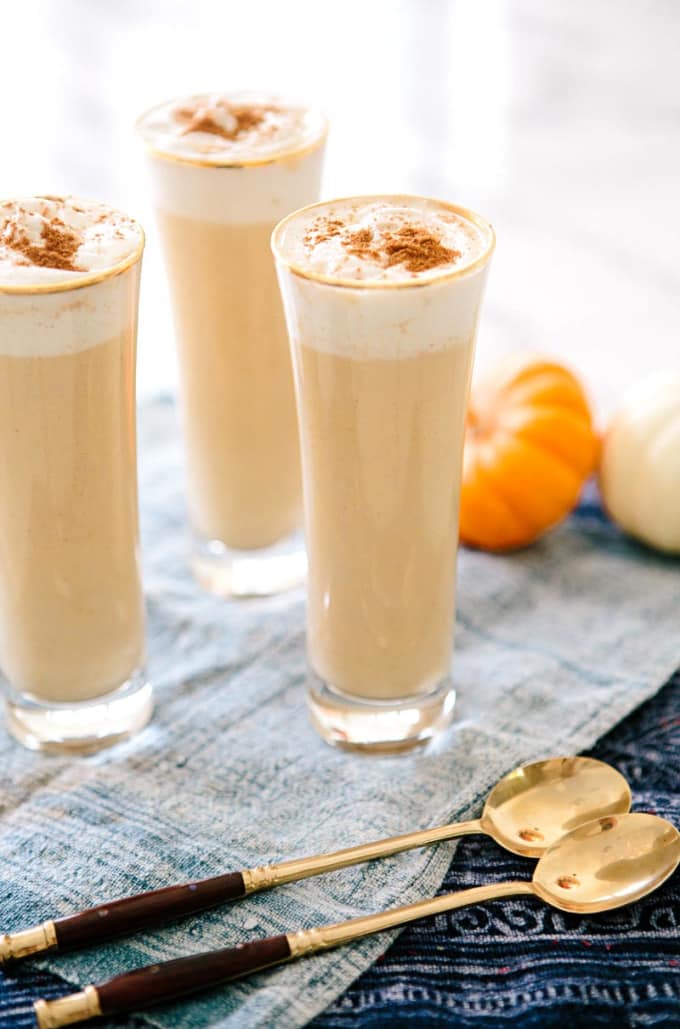 Perfect for a cold night, this pumpkin white hot chocolate's special ingredient is Bourbon, or if that's not your style, Kahlua. Basic hot chocolate is always a good choice to make when you're watching Rudolph. However, if you're looking to take the beverage up a few notches, this is the perfect way to do so.
First off, it's a white hot chocolate, meaning its sweet taste will mix well with the Bourbon. Create it with pumpkin puree, pumpkin pie spice, white chocolate chips, and milk according to Minimalist Baker's recipe. Top it off with whip cream and a little caramel drizzle and you're set.
Mexican Hot Chocolate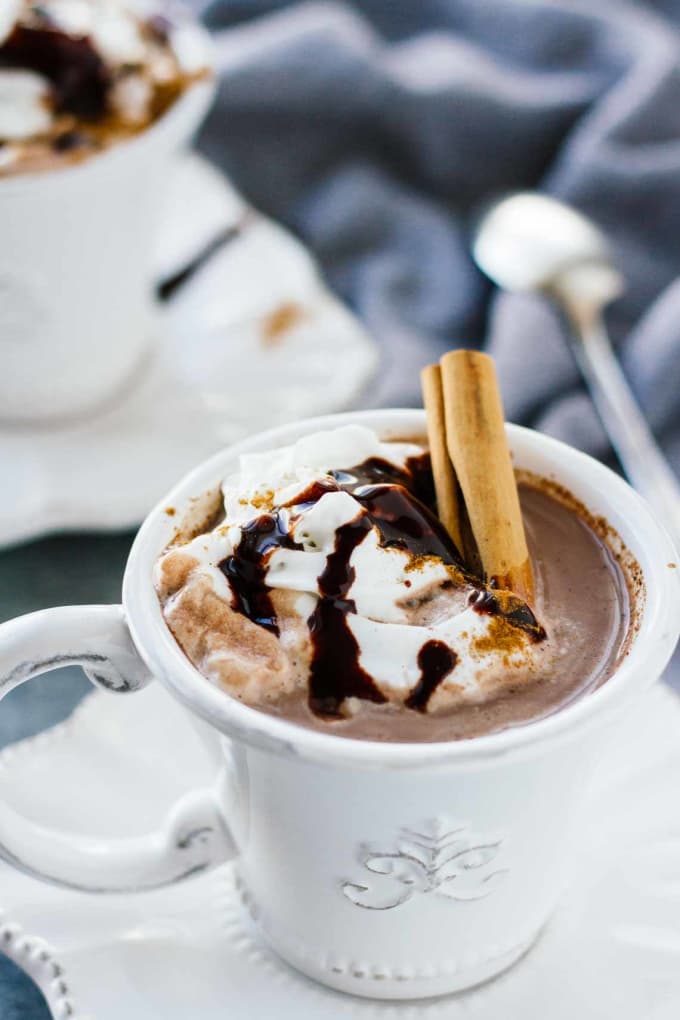 This is definitely a more obscure choice among winter cocktails, but one that you should definitely give a shot. Without many alternations to a typical batch of hot chocolate, this Mexican hot chocolate adds some spice to your mixed chocolatey drink. Made with three ounces of mezcal, twice the typical powder, some chocolate bitters, and water, the full description can be found at APracticalWedding's website.
Cinnamon Brown Sugar Cocktail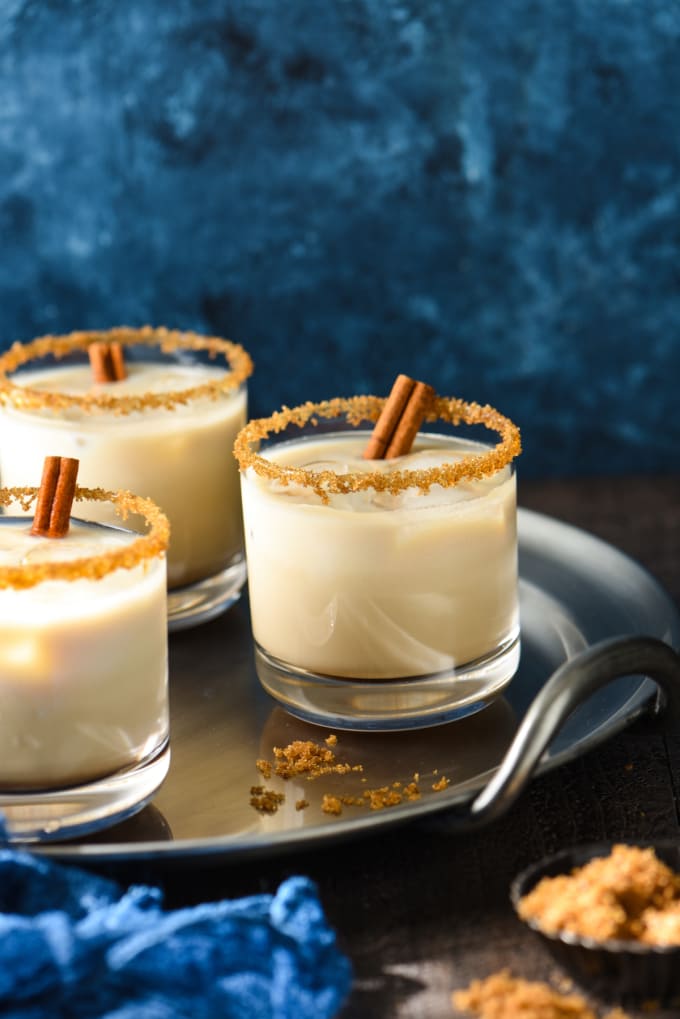 What's better than warm brown sugar and cinnamon taste? This bourbon cocktail is one of the most comforting drinks for your snowy nights in. Freckle and Fair's recipe calls for two tablespoons of brown sugar cinnamon simple syrup, club soda, and citrus bitters. Plus, it isn't complete without a brown sugar and honey lined rim. Add some ice, and you're ready to enjoy a couple drinks.
Christmas White Sangria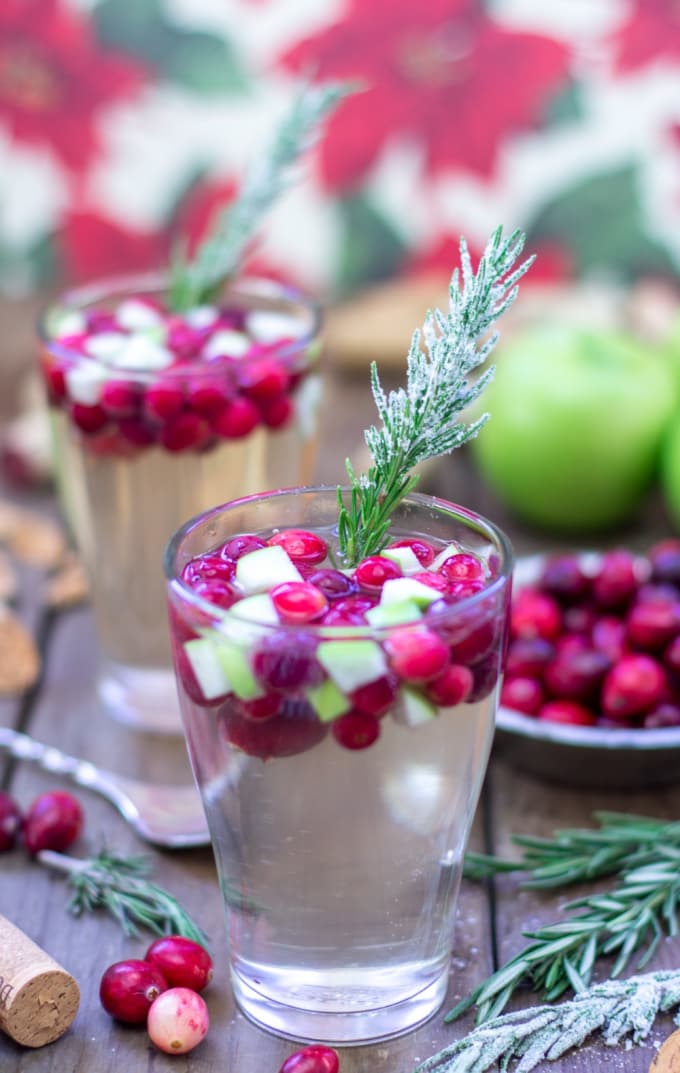 Yes, it's possible for one of the best winter cocktails to be white sangria. Though sangria is typically made during the summer months, this drink is specifically altered to be a Christmas cocktail.
Made with white wine, a few different types of apples, some cranberries, a Sprig rosemary, white grape juice, some sugar, and a can of club soda, you will never see a better looking Christmas Eve cocktail. While you refrigerate your concoction, Jerry James Stone suggests you make your rosemary a little more festive by adding some granulated sugar, to mimic a fresh snow.

Candy Cane Vodka
We don't know what screams "Christmas time" as much as candy canes do, and that's why this winter cocktail will be a hit at any winter party, or just a lazy night by the fire. You can even make this candy cane-infused vodka yourself!
Simply drop a bunch of cut up canes into a mason jar, for the aestetic, and allow your vanilla vodka to soak up the flavors from either 30 minutes all the way up to four days, for ample flavor.
If you're looking for a cocktail mix with this, Boulder Locavore has a full recipe that includes three ounces of Creme de Cacao and two ounces of Dash Angostura Bitters. Find the in-depth recipe here.
Bourbon Chai Tea Maple Toddy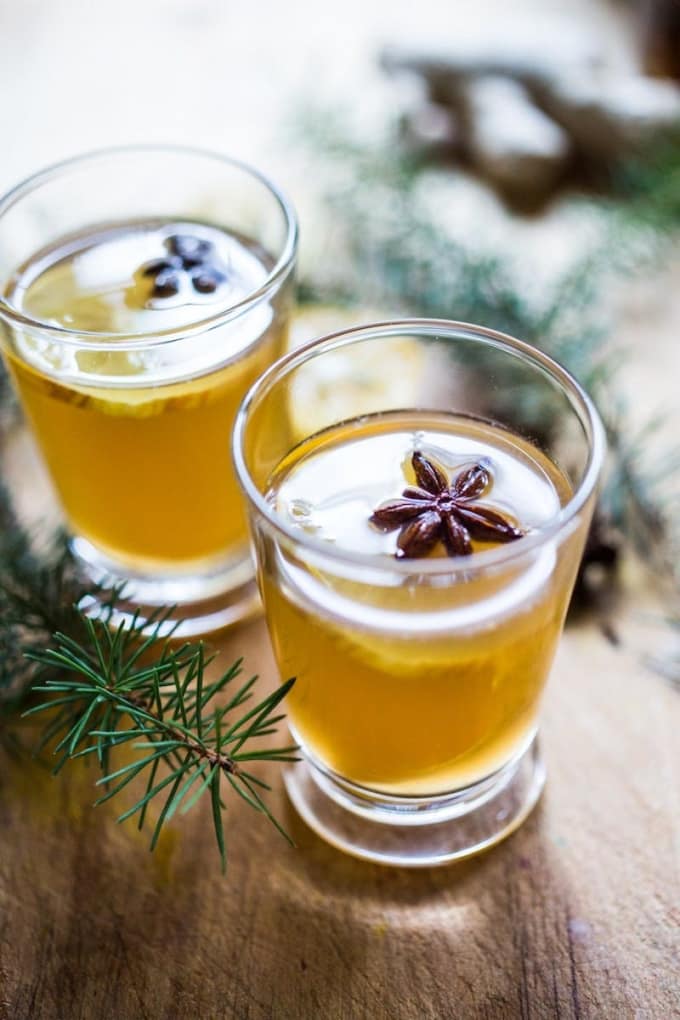 Created with half-and-half, Knob Creek Maple Bourbon, chai tea bags, and boiled water, this is one of the toastiest winter cocktails to give you a little bit of a happy buzz at your in-laws'. Tea might not be the first choice when it comes to adding alcohol to, but we guarantee this cocktail will change your mind about that.
If you love a good cup of tea on a cold morning, you're going to wish you could bring this option to work with you. With flavors of maple syrup and cinnamon, you're definitely going to be adding this to your weekend routine with this Kitchn recipe.

Irish Coffee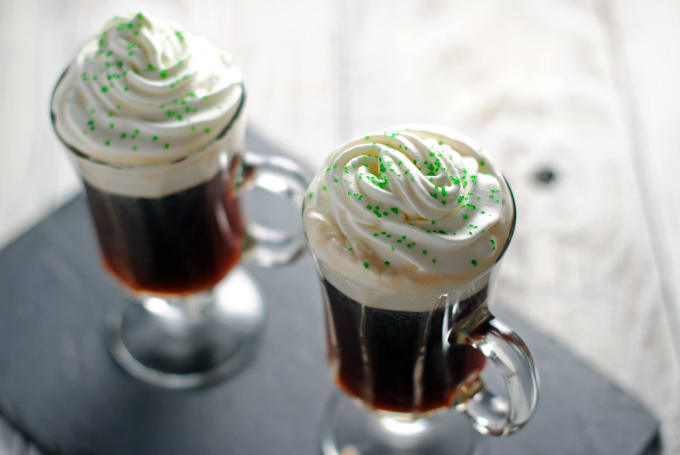 A classic option for winter cocktails, this Irish coffee is easy to make and will soon be one your signatures. With whiskey, brown sugar, coffee, and whipped cream, this simple, but effective, drink recipe by Delish will keep you toasty warm on the coach, despite the cold winds outside. Freshly brewed coffee deserve an alcohol companion every now and then, give yourself a treat with this sweet Irish twist.
Snow Bunny
With an adorable name like "Snow Bunny", it is without a doubt that this is one of the best winter cocktails to make with a group of your closest girlfriends.
Mix Absolut Elyx, White Creme de Cocoa, Half and Half, and Kahlua in a shaker and pour into a glass of ice; you won't regret drinking a cocktail with such a sweet name. With simple directions from Marie Claire and a Christmas-y taste, you can't go wrong with this option.

Pumpkin Pineapple Cocktail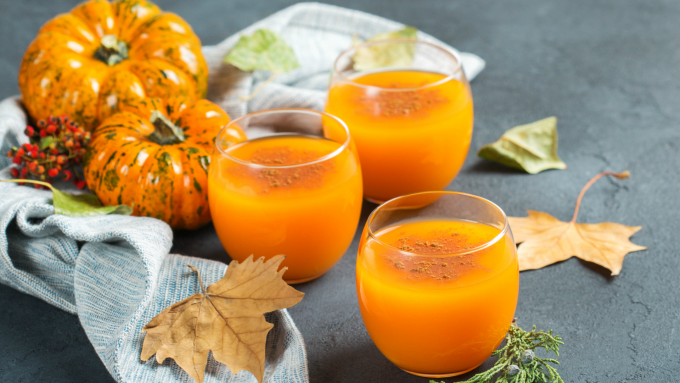 Pineapple and pumpkin might seem a little bizarre to mix together, but believe it or not, this is one of the best winter cocktails that you need to give a shot.
With ingredients including nutmeg, allspice, ground cinnamon, vanilla extract, lemon juice, honey, pumpkin purée, and of course, rum, this is definitely one of the most extensive recipes by Cookie and Kate on the list. Garnish with a lemon wheel for an elegant presentation.
Eggnog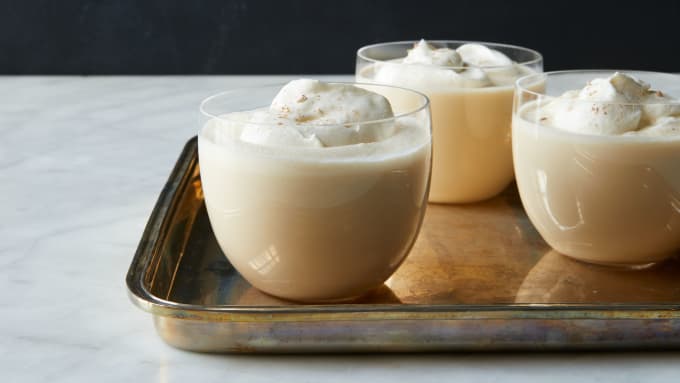 We had to finish off this list of the most delicious winter cocktails with a true Christmas classic, and we found the best recipe by AllRecipes. Combine milk, egg yolks, light cream, vanilla extract, ground nutmeg, ground cinnamon, whole cloves, and light rum; this eggnog is the real deal.
If you're looking for the most authentic, classic winter treat, this is definitely it. Spoil yourself with this drink and a Christmas cookie.