Great Rums to Stay the Winter Blues
Taste the tropics with tiki-inspired beverages.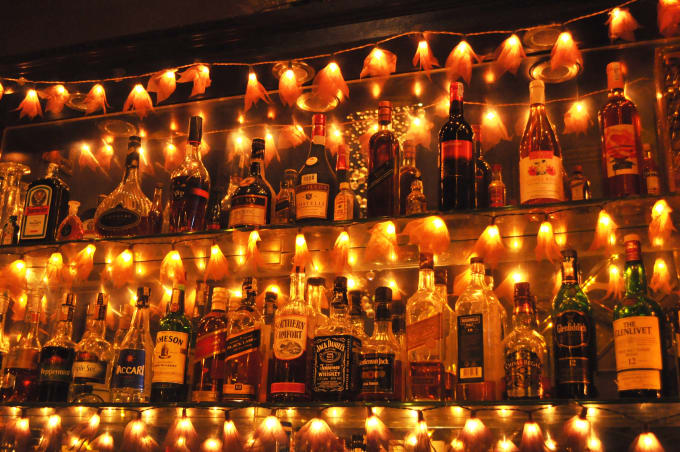 Winter libations revolve around warmth. Sweet, spiced Toddies, decadent Blueberry Teas, whipped cream-topped Alpines—all designed to coax drinkers through the cold and wet winter season. But only one spirit can inspire the thought of a warm, tropical respite through the frigidity: Rum.
Rum is currently undergoing a renaissance in America, smoldering from the cheap, sweet rum and cokes—an afterthought order at a college bar—to the acknowledgment that rum is a nuanced, stand-alone spirit, a fact which those in the Caribbean Archipelago already are well aware of. Made from fermented sugarcane (or, more frequently, fermented sugarcane byproducts like molasses) and usually aged for various amounts of time, rum mixes well with juices and sweet syrups for a refreshing cold-weather substitute to put the drinker in mind of sunnier days. Here are some great winter-distraction cocktails to try:
Classic Daiquiri
Divorce the idea of a frozen, boozy slushy from the original classic three-ingredient cocktail: rum, lime juice, sugar. A daiquiri is an excellent way of showcasing rum as a simple spirit—the lime juice and sugar/simple syrup offset the sweetness of the chosen rum. A daiquiri is a very simple cocktail, traditionally shaken over ice and strained into a coupe glass.

Dark and Stormy
A cocktail made to show off the heady spice of dark rum, a Dark and Stormy combines dark rum (the "Dark") with ginger beer (the "Stormy") and lime juice over ice, typically served as a highball. The tartness of ginger beer plays well off the sweet dark rum, with the splash of lime blending the two together. Think of a Dark and Stormy as a delicious rum version of a Moscow Mule.

Mai Tai
With connotations similar to the Daiquiri, it's important to note the Mai Tai originated as a fresh blend of syrups and juices to showcase the spirit. A quintessential tiki drink, a Mai Tai artfully blends orgeat (almond and rose/orange flower water) syrup, curacao (essentially an orange-aromatic liqueur), aged rum, and lime juice together over ice to make a wonderfully floral, fragrant concoction, bringing to mind lush tropics.

Rums aren't solely for blending into cocktails; flavor profiles of rum are as wide-reaching as any other spirit. Produced in various grades, "golden" or "dark" rums are delicious as a solo sipping spirit, opening up nicely over ice, while "Light" or "silver" rums are primarily used for mixed drinks. Here are some intriguingly distinctive rums to enjoy:
Oaxacan Rum
The majority of rum is produced in the Caribbean, but Panubes Oaxacan rum, produced in Mexico, is quickly gaining a reputation as a fantastic sugarcane juice rum. Usually handmade in small-batch, fire-heated copper column stills, Oaxacan rum in well-known for floral, green flavor profiles. Try it in a classic mojito—the muddled mint will bring out the green earthiness of the Oaxacan rum.

Venezuelan Rum
Santa Teresa Rum producers boast of their rugby prowess on their website—a fun, culture-blending approach to a centuries-old production process. This rum, created in Venezuela, is well-known for its delectably, richly-spiced flavor profile. Distilled from molasses, this brown rum is usually aged for over a decade, spending the last few years in bourbon barrels, which gives it a gorgeous, sweetly spicy taste. Try it either on the rocks or in a Dark & Stormy cocktail—the ginger beer will bring out the spice profile nicely.

Martinique Rum
While the majority of rums introduced in America are molasses-based, Martinique rums are entirely sugarcane juice-based. Martinique rums are distinct in their use of fresh juice, and rums from this region are considered "agricultural" rums, lending a verdant, peppery flavor. Almost vegetal, the Spring-like Martinique rums would be well-showcased in a classic daiquiri—a touch of lime juice and sugar would balance the greenery well.

Rum can be used for everything, from flavoring baked goods and desserts to sipping over ice; the versatility is what lends itself to its revival, and in the midst of this cold season, reaching for a bottle of rum to inspire tropical thoughts might well keep one warm.