Jazz & Drinks
Miles Davis, Part 1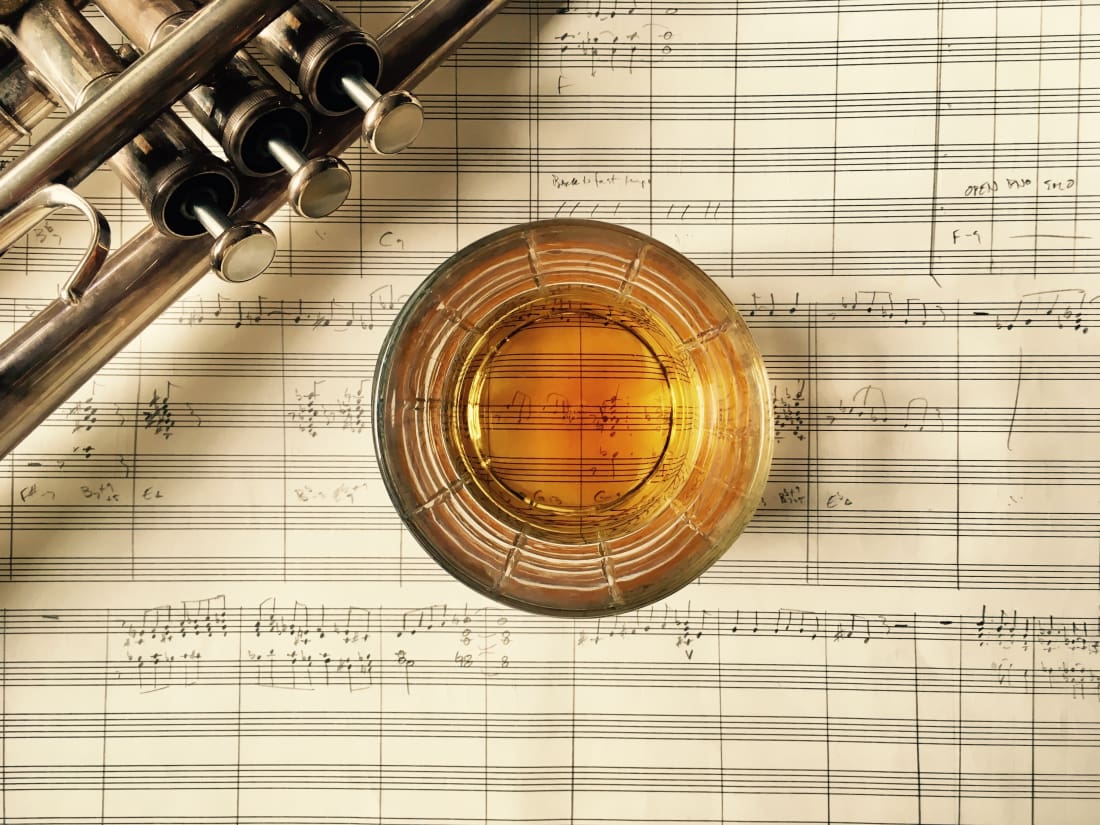 The only thing I love more than a good cocktail is a good jazz record. Come to think of it, the two aren't all that different! They both deserve to be savored. They're simultaneously temporal and infinite. The joy in either is the interplay between discrete elements, resulting in something magical.
If you ask me, it's not a giant step to think having both together is a match made in jazz heaven. What wine should you drink when you put on Thelonious Monk? Does a pale ale or a lager pair better with some Thad Jones/Mel Lewis? What cocktail should you mix up before sitting down with The Bad Plus? Pairing music and drink isn't exactly a science, but with this series, I intend to give it my best shot.
First Pairing: Kind of Blue and a Rob Roy
How could I begin this series with anything besides this monumental album by the legendary band leader Miles Davis? Recorded and released in 1959, it is rightfully considered one of the most important jazz recordings of all time. I could wax poetic about Kind of Blue's musical and historical significance, but this article is really about booze. Specifically, what sort of cocktail could stand up to such an iconic album?
There's a lot going on in Kind of Blue that you could pair with a drink. A crisp dry martini would pair beautifully with Bill Evans's clean, cool piano playing. Or I might put together something coffee-based to complement the opening bass and piano on "So What," which, in the best possible way, reminds me of waking up in the very early morning. I could even crack open a beer to relax with the low-key "Freddie Freeloader" (well, not that low-key: it's just B flat).
Ultimately, I wanted to pick a single beverage that could pair with the album as a whole, and to do that, I knew had to focus on the man with the horn himself: Miles Davis. Miles's horn has a unique smoky sweetness to it, and no beverage evokes smoke more than Scotch whisky. I don't know if Miles was much of a scotch drinker, but I can't think of a more ideal complement to his ethereal muted trumpet in "Blue in Green" or "Flamenco Sketches."
You could set yourself up with a dram of Laphroaig and some vinyl and call it a day, and you'd already be in an enviable spot. But for me, I usually prefer a cocktail. Scotch is notoriously hard to mix, but there are a few classic scotch cocktails, none of which pairs better with Kind of Blue than the Rob Roy.
Recipe: Rob Roy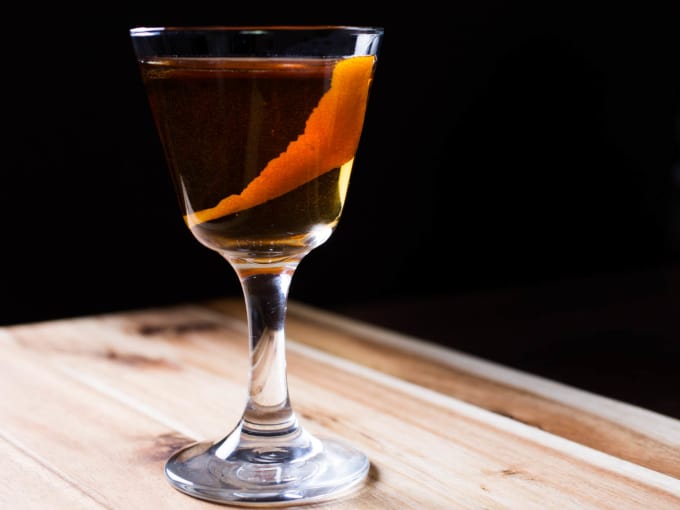 The Rob Roy is the smokier cousin of your basic Manhattan. In fact, the two cocktails are nearly identical besides the base spirit (scotch vs bourbon or rye). A Manhattan would pair well with Kind of Blue, but I think the smokiness of the scotch in a Rob Roy is what really makes this pairing somethin' else.
Feel free to use your go-to scotch when you mix up your Rob Roy, but if I'm being honest, a good single malt would really be wasted in a cocktail. A blended scotch is a better fit for the Rob Roy, plus it'll be cheaper, so win-win! Famous Grouse is a decent inexpensive blended scotch that you can find just about anywhere. The distillery also offers a peated blend ("Smoky Black") to up that smoke factor. Other solid scotch blends include Monkey Shoulder and Johnnie Walker Black.
Here's what you'll need to fix your Rob Roy:
2.5 oz Famous Grouse Smoky Black Scotch Whisky (or your choice)

1 oz Martini & Rossi Sweet Vermouth (or your choice)
2-3 dashes Angostura Bitters
Stir the ingredients over ice and strain into your glass of choice. Garnish with an orange twist and/or a cocktail cherry. Put on Kind of Blue and relax.